Analysis
Fluoropolymer is a semi-crystalline thermoplastic that is made up of multiple strong carbon-fluorine bonds. Fluoropolymer films have several versatile properties, such as excellent dielectric properties, chemical inertness, weather resistance, outstanding optical properties, negligible moisture absorption, and outstanding performance at extreme temperatures. Therefore, due to these versatile properties, it is widely used in various industries, such as industrial equipment, construction, solar photovoltaic (PV) module, chemical processing, automotive and transportation, etc.
The fluoropolymer films market is expected to grow significantly in the upcoming years, owing to the rising application of fluoropolymer films in several end-user industries, such as electrical and electronics, automotive, aerospace, medical and pharmaceutical, and others. Moreover, the growing demand for fluoropolymer films by the medical packaging industry is another major factors anticipated to drive this global market's growth. However, the high raw material cost of fluoropolymer films might hinder the fluoropolymer films market growth in the future. Alternatively, the technological advancements witnessed across the several end-user industries are projected to offer lucrative opportunities for the global fluoropolymer films market in the upcoming years.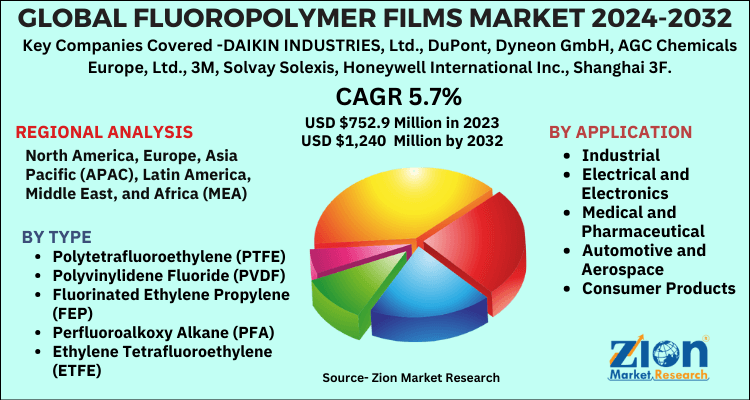 The fluoropolymer films market is classified based on type and application. By type, the global fluoropolymer films market includes polyvinylidene fluoride (PVDF), perfluoroalkoxy alkane (PFA), polytetrafluoroethylene (PTFE), fluorinated ethylene propylene (FEP), and ethylene tetrafluoroethylene (ETFE). PTFE dominated and held the largest share of the fluoropolymer films market in 2017, due to its versatility, excellent electrical insulation, chemical inertness, high-temperature resistance, and low coefficient of friction. It is also widely used in manufacturing electrical and electronics, chemical processing, medical and pharmaceutical, packaging, and consumer products. By application, the global fluoropolymer films market includes industrial, electrical and electronics, medical and pharmaceutical, automotive and aerospace, consumer products, and others. The medical and pharmaceutical segment is anticipated to grow at the fastest rate in the upcoming years.
By region, the global fluoropolymer films market is divided into Europe, North America, Latin America, Asia Pacific, and the Middle East and Africa. Asia Pacific is the largest contributing region for the global fluoropolymer films market and is expected to continue its regional dominance in the future. This can be attributed to the flourishing construction industry and rising population. The North American and European markets are projected to grow significantly over the forecast timeframe, owing to the substantial developments made in the packaging industry.
Some key manufacturers of the global fluoropolymer films market are DAIKIN INDUSTRIES, Ltd., DuPont, Dyneon GmbH, AGC Chemicals Europe, Ltd., 3M, Solvay Solexis, Honeywell International Inc., Shanghai 3F, Gujarat Fluorochemicals Ltd., Fuxin Hengtong, Zhonghao Chenguang Research Institute of Chemical Industry, and Jinan 3F Fluoro-Chemical Co., Ltd., among others.