Analysis
Steel is the significant raw material used in the manufacturing of several products which is necessary for the growth of the economy. Steel can be transformed into different forms to facilitate its use in various products. The products can be bifurcated into long steel products and flat steel products. Carbon steel is the alloy which consists of carbon and iron. Carbon steel is categorized into four types which include low, medium, high, very high carbon steel. Flat steel products are the discrete coils, sheets, plates, and flat slabs. Flat steel has a wide range of applications in hydropower plants, solar industries, oil & gas, wind, & nuclear industries, and also thermal power plants.
Flat carbon steel is majorly used in the production of a wide range of cutting tools because of their hardness and brittleness. Rapid industrialization and increase in the infrastructure investments are the major factors propelling the market growth. Moreover, the increase in the construction business is also anticipated to positively influence the expansion of the flat carbon steel market across the globe. In addition to this, rising demand for the flat carbon steel from the marine, aerospace, railways, and automotive sectors is projected to boost the market growth across the globe in the upcoming years.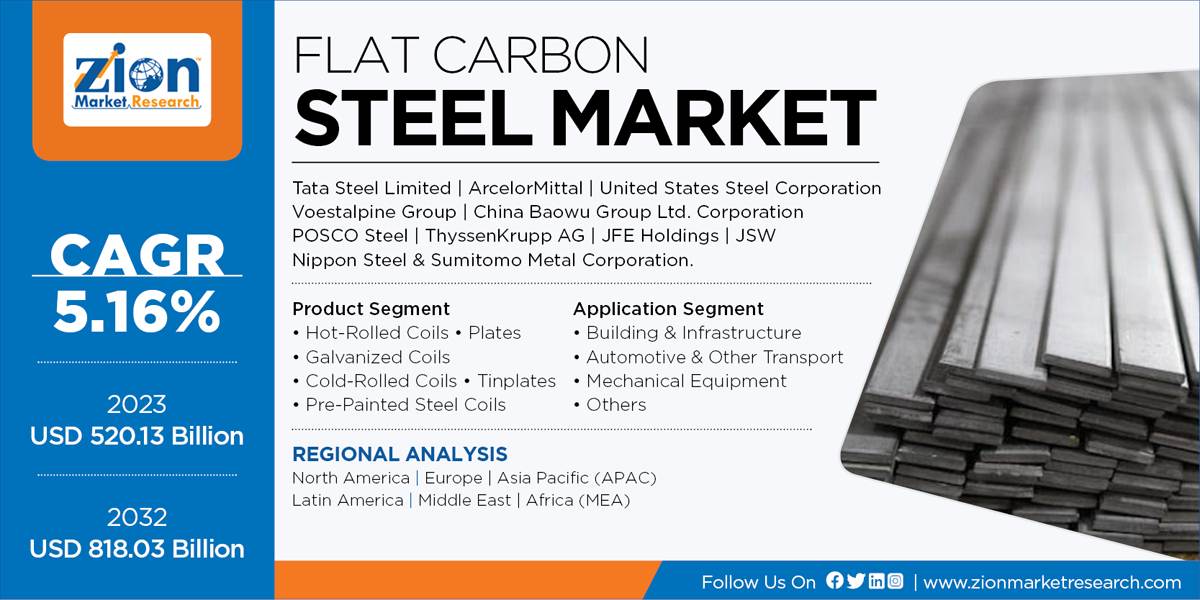 On the basis of product, the flat carbon steel market is bifurcated into plates, tinplates, hot-rolled coils, cold-rolled coils, pre-painted steel coils, and galvanized coils. Based on the application, the market is segmented into building & infrastructure, mechanical equipment, automotive & other transport, and others.
On the basis of region, Asia Pacific dominates the overall flat carbon steel market. The Asia Pacific accounted for a major revenue share in 2017 and is expected to continue with this trend during the forecast timeframe. The growth is attributed to the increasing demand for the flat carbon steel from various industries in the developing countries which include China, India, and South Korea. India is anticipated to hold a major market share due to the growth of industries such as automotive and construction. Moreover, North America accounted for a considerable growth in 2017. The U.S. is estimated to observe the high usage of the flat carbon steel in the coming years due to the rise in repairing activities of construction and infrastructure sectors.
Some of the major players operating in the flat carbon steel market are Tata Steel Limited, ArcelorMittal, United States Steel Corporation, Voestalpine Group, China Baowu Group Ltd. Corporation, POSCO Steel, ThyssenKrupp AG, JFE Holdings, JSW, Infra-Metals Co., Continental Steel & Tube Co., and Nippon Steel & Sumitomo Metal Corporation.