Analysis
Fire detectors sense one or more of the products or phenomena resulting from fire, such as smoke, heat, infrared and/or ultraviolet light radiation, or gas. In dwellings, smoke detectors are often stand-alone devices. In non-domestic buildings, fire detection will typically take the form of a fire alarm system. A flame detector is a sensor designed to detect and respond to the presence of a flame or fire. Responses to a detected flame depend on the installation but can include sounding an alarm, deactivating a fuel line (such as a propane or a natural gas line), and activating a fire suppression system.
The fire sensors and detectors market is mainly driven by the increasing security issues and accidents. The presence of government regulations regarding citizen and worker safety is also expected to propel market demand in the near future. Fire sensor and detector systems offer various benefits such as rapid fire detection, location identification, and easy maintenance and are expected to positively impact the fire senor and detector market growth over the forecast period. However, the high cost of installation and maintenance may hamper the market growth over the years. Nonetheless, technological advancement is expected to open up new growth avenues in the near future.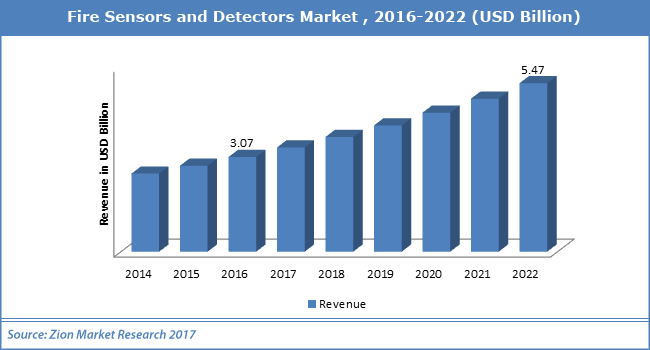 The global fire sensors and detectors market is segmented into components, services, industry, and regions. The component segment includes a smoke detector, heat detector, flame detector and other detectors. The services which are offered are engineering services, installation and design, service & maintenance, managed services and other services. By industry, the global fire sensors and detectors market have been segmented into academia & institutional, BFSI, consumer goods & retail, energy & power, government, healthcare, manufacturing, oil & gas and mining, transportation and logistics, and others. The market is analyzed based on five regions namely North America, Europe, Asia-Pacific, Latin America and the Middle East and Africa.