Analysis
The fire protection system is used to remove the effects of potentially large or destructive fires. Fire protection systems help in the investigation of fires along with studying their behaviors, suppression, and compartmentalization, combating emergencies, testing mitigating systems, and conducting research and development. The tools in these systems consist of smoke and flame detector devices and other tools that assist during fire emergencies. Alarm valves and suppression systems are among extensively used safety structures.
The increasing incidences of disastrous fire injuries are fuelling the number of casualties and loss of property in both business and non-business areas. This is majorly driving the demand for fire protection structures like fire suppressors and fireplace alarm devices and supporting the fire protection system market globally. Additionally, improvements in technology coupled with stringent regulations assisting protection at commercial, residential, and industrial areas will further contribute to the growth of the global fire protection system market. Furthermore, various developments related to smoke detectors coupled with IoT and big data are likely to create new market opportunities in the future. However, high installation and maintenance costs of fire protection devices may hamper this market.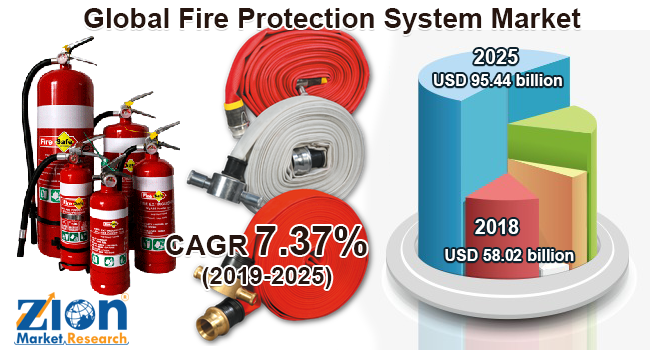 The global fire protection system market is divided based on product type, service, and vertical. The product type segment is fragmented into fire detection systems, fire extinguishers, fire suppression systems, and fire response systems. Fire suppression systems showed substantial growth in 2018. The service segment includes installation and design services, engineering services, managed services, maintenance services, and others. By vertical, the market includes healthcare, manufacturing, hospitality, IT and telecommunication, transportation and logistics, and others. The healthcare sector consists of various equipment that could be dangerous, thus, this sector is expected to witness considerable growth over the forecast time period.
By region, the Asia Pacific fire protection system market is expected to grow at a substantial rate in the future, owing to intensive industrialization and the presence of emerging economies like China and India. New constructions witnessed across the region are further driving this regional market's growth. Moreover, the sound wave fire extinguishers and water mist systems are newly launched fire safety system types that are also contributing to this region's fire protection system market. Infrastructural developments and strict government norms are driving the fire protection system market in North America.
Some noticeable players of the global fire protection system market are Siemens, Honeywell International, Gentex Corporation, ABB, Robert Bosch, Johnson Controls, Minimax Viking, United Technologies, VFP Fire Systems, Halma, and Hochiki Corporation.