Analysis
A fiber optic connector is an accessory that is assembled at the end of a fiber cable. The main function of a fiber optic connector is to connect or disconnect a fiber optic cable as per user's requirement. It facilitates easy and quick connection when compared to splicing.
Telecom providers are significantly investing in maximizing their existing network capacities, thereby accelerating the fiber optics demand and simultaneously driving the fiber optic connectors market. Furthermore, commercialization of 5G act as adds on to the fiber optic connectors market over the forecast time period. In the current scenario, the demand for fiber optic cables is propelling the telecommunication industry for the transmission of telephone signals, cable television signals, and internet communication. The global telecommunication sector is anticipated to account for nearly USD 1,360 billion by 2019. However, the globally trending adoption rate of IoT devices offering wireless connectivity might restrict this global market's growth in the near future. Alternatively, the escalating demand for fiber optic cables is anticipated to create lucrative opportunities for the players operating in the fiber optic connectors market over the forecast timeframe. The demand for fiber optics cable is anticipated to reach 325 million fiber kilometers by 2018.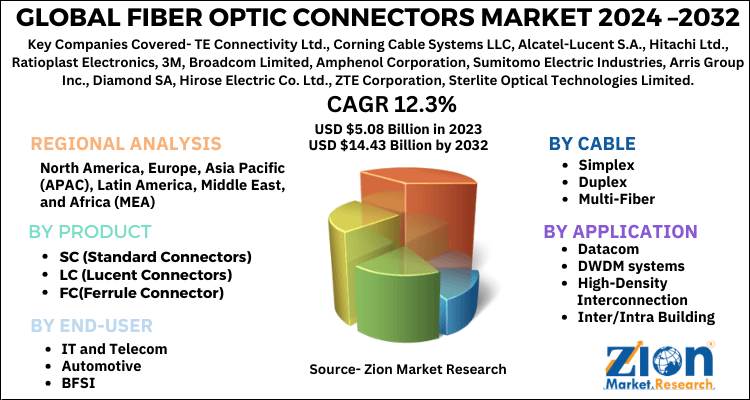 The global fiber optic connectors market is segmented by product, cable, application, and end-user. The product segment of the market includes SC (Standard Connectors), LC (Lucent Connectors), FC(Ferrule Connector), ST (Straight Tip), MTP/MPO (Multiple-Fiber Push-On/Pull-Off), MXC Connectors, and others. LC fiber optic connectors are anticipated to show prominent growth in the forecast timeframe, due to their high preference for high-density connections due to their small size and latch feature. By cable, the market is classified into simplex, duplex, and multi-fiber. By application, this market includes Datacom, DWDM systems, high-density interconnection, inter/intrabuilding, security systems, community antenna television, and others. The increasing demand for security applications is anticipated to boost this market segment in the upcoming years. By end-user, this market is classified into IT and telecom, automotive, BFSI, manufacturing, government, healthcare, aerospace and defense, and others.
Regionally, the fiber optic connectors market is primarily categorized into North America, Europe, Latin America, Asia Pacific, and the Middle East and Africa. In North America, the demand for fiber optic connectors is mainly driven by the escalating adoption of fiber optic cables for data center applications.
Some renowned players of the fiber optic connectors market TE Connectivity Ltd., Corning Cable Systems LLC, Alcatel-Lucent S.A., Hitachi Ltd., Ratioplast Electronics, 3M, Broadcom Limited, Amphenol Corporation, Sumitomo Electric Industries, Arris Group Inc., Diamond SA, Hirose Electric Co. Ltd., ZTE Corporation, Sterlite Optical Technologies Limited, Furukawa Electric Co., Ltd., and AT&T, among others.