Analysis
Global emulsion adhesives market is expected to witness significant growth in the years ahead, due to its wide utilization in the production of polymeric base and across various end-user industries. Emulsion adhesives are manufactured by emulsification and polymerization of resins and have many useful properties for woodworking, construction, and automotive and transportation. They are easy to use and eco-friendly in nature, which is further expected to be another major driving factor of the global emulsion adhesives market. These solvent-free adhesives are also non-flammable and non-toxic in nature. Moreover, the low product cost as compared to other adhesives is also aiding this market's growth. Government of developing nations like China and India has mandated the use of eco-friendly products, which is also fuelling the emulsion adhesives market. However, the lack of new and improved adhesives and low-performance of adhesives in high-strength applications, which call for heavy demand for improved adhesives, may restrict the emulsion adhesives market growth. Alternatively, the rising number of infrastructural projects and rapid urbanization, especially in developing countries, are expected to provide new growth opportunities for the key market players in the upcoming years.
The global emulsion adhesives market is fragmented on the basis of resin type, product type, and application. By resin type, the market is divided into acrylic polymer emulsion, polyvinyl acetate (PVA) emulsion, vinyl acetate ethylene (VAE) emulsion, SBC latex, polyurethane dispersion, and others. Acrylic polymer emulsion was the largest segment of the emulsion adhesives market in 2018, due to its several vital properties. By product type, the emulsion adhesives market includes permanent and removable adhesives. Permanent emulsion adhesives are in high demand. The application segment of the emulsion adhesives market includes paper and packaging, woodworking, tapes and labels, construction, automotive and transportation and others. The paper and packaging segment held the largest market share in 2018, due to high adhesives demand for manufacturing of packaging products for electronic and electrical devices, consumer, and industrial goods.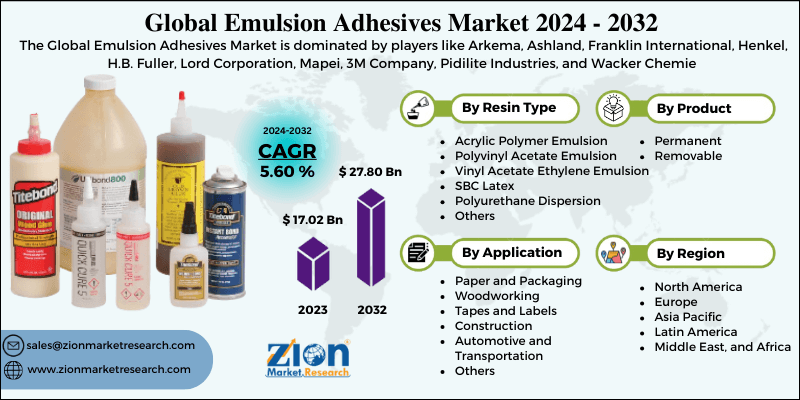 The Asia Pacific is the leading regions in the global emulsion adhesives market, due to the growing adhesives demand in the regions, especially from the developing countries of India and China, the rising product demand from the region's packaging industry, rapid urbanization, and increasing infrastructural investments by the government. Many automotive components are manufactured using emulsion adhesives. Thus, the flourishing automation industry in these developing countries is also working as a catalyst for the emulsion adhesives market in the region.
Some key players operating in the global emulsion adhesives market are Arkema, Ashland, Franklin International, Henkel, H.B. Fuller, Lord Corporation, Mapei, 3M Company, Pidilite Industries, and Wacker Chemie.