Analysis
Electrical discharge machining (EDM) is a process that removes material from a surface of the workpiece by local melting or vaporizing small areas. It is also known as arc machining spark eroding or spark machining.
Benefits offered by EDM over any other heavy machine tools such as effective drilling and ability to design any complex shape are majorly driving the electrical discharge machine market. Die sinking electrical discharge machining (EDM), an existing manufacturing technology is widely disseminated in various industrial applications such as metal molding. By opting EDM process, featured accurate product design parameter allows the product to obtain the desired shape with quality. Continuous R&D in the technology has led to the formation of die sinking EDM machines that are specifically designed to assemble complex shape such as creating sharp edges inside corners. Additionally, milling the required shape is unachievable with CNC machines owing to which electrical discharge machines are highly preferred.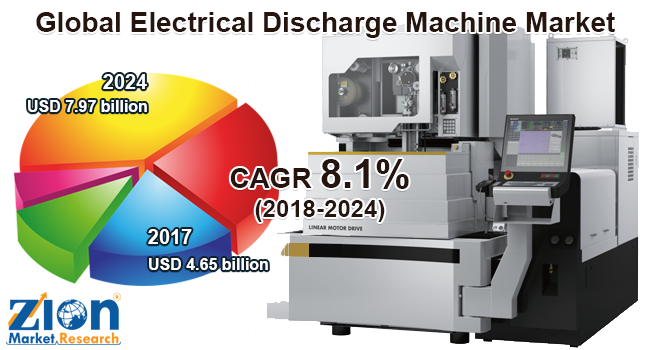 High-energy consumption due to multiple stages involved in the procedure can outweigh the technical advancement of these machines, resulting in slowdown growth of electrical discharge machine market.
Integration of EDM with PLC (Programmable Logic Controller) is anticipated to create broad avenues in the upcoming years. PLCs are used in the industrial sector for the enhancement of the production process. Integrating EDM with PLC will enhance the operational efficiency. In this system, existing tool position of die sinking EDM and the DC power supply from the capacitor would act as an input to PLC. Discharging the current for spark is the most influencing process parameter of the electric discharge machine. Integration with PLC offers numerous advantages such as increased reliability, lower cost, more flexibility, and communication capability with other computers to perform functions such as data gathering, supervisory control, monitoring devices, and faster response time, and easy troubleshooting.
The global electrical discharge machine market is fragmented on the basis of product, end-user industry, and geography. Die sinking EDM, wire cutting EDM, and small-hole EDM are product segments in the market. Die sinking is projected to hold significant share during the forecast period. End-user industries involved in the market include aerospace and defense, manufacturing, automotive, healthcare, and others. Accelerating mining sector and industrial production have led end-user industry segment to account for the largest share comparatively. Based on regional analysis, the electrical discharge machine market is divided into five regions North America, Europe, Asia Pacific, Latin America, and the Middle East & Africa along with further country-wise segmentation. High demand of automation industry and industrial production in developing countries like China and India has led Asia Pacific to be the largest shareholder. Manufacturers are focusing on technological developments and innovation for automotive application segment.
Numerous renowned players are even investing in research and development to enhance their product quality. Major manufacturers involved in electrical discharge machine market are Aristech, CERATIZIT, CHMER, EchoENG, EXERON, GF Machining Solutions, Heun Funkenerosion GmbH, OEMARS, KAAST Machine Tools Inc., and Kent Industrial.