Analysis
In the pathology field, digital pathology is a new technique. The digital pathology helps to view, manage, share, and analyze the sample by converting the glass slide of the virtual microscope into digital slides on a computer. This advancement was possible partly with virtual microscopy, a technique that successfully posted the image and transmitted it through a connected network. The data-rich images form the foundation of maintaining the patients' electronic health records and assemble the distributed data to form a central database. Thus, the increasing demand for digital pathology is expected to boost the market growth in the near future.
The digital pathology market is bifurcated into product type, technology, applications, end user, and geography. Based on product type, the market is segmented into software, scanners, storage systems, and communication systems. On the basis of technology, the digital pathology market is segmented as whole slide imaging, storage, communication and integrated platforms, and image analysis-informatics. By application, the market for digital pathology is segmented into drug discovery, teleconsultation, training and education, and disease diagnosis. Based on the end user, the market is segmented into biotechnology & pharmaceutical companies, research & academic institutes, hospitals and reference laboratories, and contract research organizations.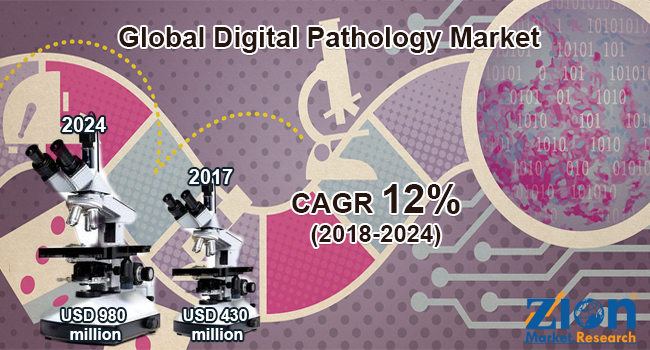 By geography, North America accounted for the highest share in the global digital pathology market in 2017 and is expected to remain dominant over the forthcoming years. The growing initiative by the government and increasing prevalence of life-threatening diseases are the key factors contributing towards the high share of North America in the global digital pathology market. The Asia Pacific is expected to register high growth rate in the global digital pathology market. Growing adoption of the technologically enhanced platform for diagnosis of disease, large patient pool, and growing awareness about newer products are the key factors propelling the growth of the digital pathology market in the region.
Some of the key players in the digital pathology market are Hamamatsu Photonics K.K., 3DHISTECH Ltd., Leica Biosystems Nussloch GmbH, Koninklijke Philips N.V., XIFIN, Inc., Huron Digital Pathology Inc., Objective Pathology Services., Visiopharm, Corista., Indica Labs, Ventana Medical Systems, Inc., Pixcelldata Ltd., Nikon Corporation, and Apollo Enterprise Imaging.
The growing demand for digital tools for diagnostics of chronic diseases is increasing competition among the key competitors operating in the market which is expected to enhance the growth of the market globally.