Analysis
Artificial intelligence (AI), digital research, and digital medicine allow continuous and remote monitoring of patients' symptoms, behaviors, and physiological data via wearable devices, smartphone applications, and sensors. Diabetes treatment relies hugely on comprehensive data. Digital diabetes management solutions offer continuous blood glucose monitoring apart from keeping track of the values. Thus, these digital diabetes management solutions are gaining momentum worldwide.
Diabetes prevalence is growing rapidly due to a sedentary lifestyle and changing dietary habits. As per the World Health Organization, about 1.6 million deaths were directly associated with diabetes in 2016. As per the International Diabetes Federation estimates, about 425 million adults had diabetes worldwide in 2017, which is expected to reach about 629 million by 2045. Approximately, USD 727 billion was spent on adult health due to diabetes. Diabetes poses a major challenge to the society and thus healthcare companies are focusing to offer technologically advanced solutions to control diabetes worldwide.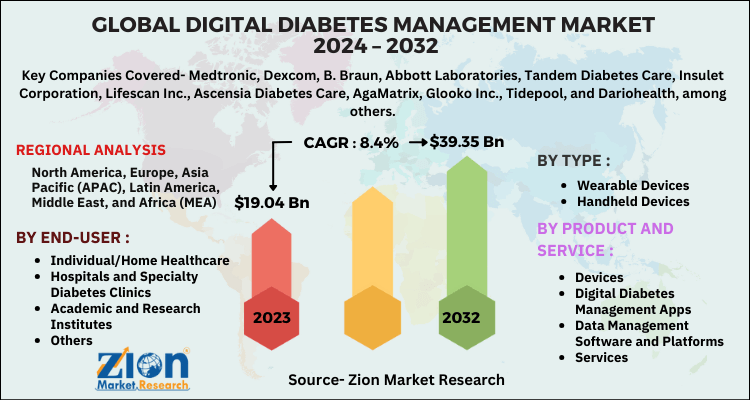 The increasing prevalence of diabetes worldwide, rising geriatric population base, and growing penetration of smart devices, digital platform, and adoption of mobile apps are likely to fuel the global digital diabetes management market in the future. Additionally, technological advancements and the growing adoption of digital solutions worldwide are projected to further propel this market's growth over the estimated timeframe. Other factors that are anticipated contribute toward the growth of the digital diabetes management market are increasing health awareness and expenditure and digitalization of healthcare systems. However, the high cost of digital devices and lack of reimbursement policies in emerging countries may hamper the digital diabetes management market globally.
The global digital diabetes management market segments are based on type, product and service, and end-user. By type, the market is segmented into wearable and handheld devices. By product and service, the market is segmented into devices, digital diabetes management apps, data management software and platforms, and services. The devices segment is sub-segmented into continuous glucose monitoring systems, smart glucose meters, smart insulin pens, and closed-loop systems/smart insulin pumps and smart insulin patches. The digital diabetes management apps are sub-classified into diabetes and blood glucose tracking apps and weight and diet management apps. By end-user, the market is segmented into individuals/home healthcare, academic and research institutes, hospitals and specialty diabetes clinics, and others.
By region, North America dominated the global digital diabetes management market with a revenue share of about 40% in 2018. This can be due to the increasing prevalence of diabetes, growing digital platform penetration, and favorable reimbursement policies by the government. North America is estimated to lead over the forecast time period, owing to the technological advancements and growing adoption of smart devices. Europe is the second largest region in the global digital diabetes management market, owing to the increasing diabetic population, government initiatives to control diabetes and obesity, and rising healthcare expenditure. Asia Pacific is projected to show the highest CAGR over the forecast time period in the global digital diabetes management market, owing to increasing geriatric population, rising diabetes prevalence, and growing awareness, healthcare expenditure, and adoption of digital platforms.
Some key players of the global digital diabetes management market include Medtronic, Dexcom, B. Braun, Abbott Laboratories, Tandem Diabetes Care, Insulet Corporation, Lifescan Inc., Ascensia Diabetes Care, AgaMatrix, Glooko Inc., Tidepool, and Dariohealth, among others.