Analysis
Efficient and effective control of any sort of infection is vital in dentistry to ensure patient safety. Sterilization and disinfection of instruments are essential to prevent any type of transmission of infectious pathogens to both staff and patients. Several programs on infection control are organized to spread awareness about cleaning and sterilization of dental devices and instruments. Dental professionals need to take proper care of their instruments that are used for surgical procedures to avoid transmitting any sort of infection.
With the rising dental surgical procedures, the global dental sterilization market is likely to show significant growth over the estimated time period. The growing funding for research and development activities is enhancing technological growth in the field of infectious disease and diagnosis. For instance, the introduction of SoproLife camera, which comes with a computer imaging and fluorescent light to identify the severity of a cavity, works in favor of this market's growth. Additionally, advancements in the field of dental services are further propelling the global dental sterilization market trends. Population in both developed and developing countries have become increasingly open toward cosmetic dental procedures along with continual innovations in this field with the launch of new products is also likely to fuel the global dental sterilization market over the forecast timeline.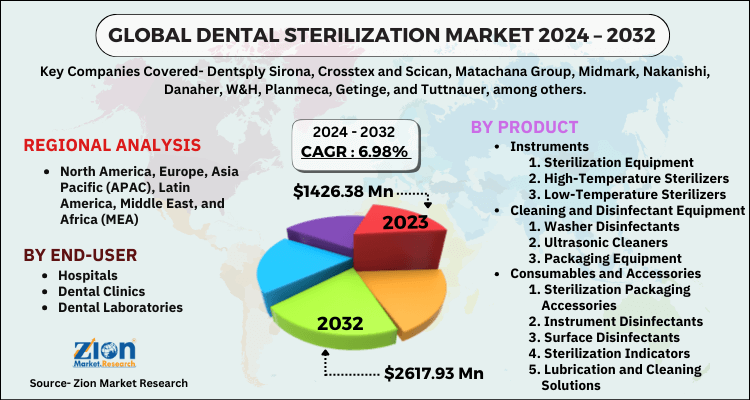 The global dental sterilization market is classified on the basis of product and end user. Based on the product, the dental sterilization market is divided into instruments and consumables and accessories. The instruments segment is divided into cleaning and disinfectant equipment and sterilization equipment. The sterilization equipment is further segmented into low- and high-temperature sterilizers. The cleaning and disinfectant equipment segment includes washer disinfectants, ultrasonic cleaners, packaging equipment. The consumables and accessories market is sectored into surface disinfectants, instrument disinfectants, sterilization packaging accessories, sterilization indicators, and lubrication and cleaning solutions. By end-user, the market is classified into hospitals, dental clinics, and dental laboratories.
By region, North America is likely to dominate the global dental sterilization market in the future. This regional growth can be attributed to high expenditure on healthcare, developed healthcare infrastructure, and raising awareness among the population about dental care. The Asia Pacific dental sterilization market is projected to witness notable growth in the years to come, owing to growth opportunities available in Japan, India, and China, the presence of a large patient pool, and a high proportion of geriatric population waiting to be treated. Additionally, the introduction of favorable government policies to change healthcare practices across the region, especially in rural areas, is likely to further propel the dental sterilization market growth in the Asia Pacific region over the estimated timeframe.
Some leading players of the global dental sterilization market are Dentsply Sirona, Crosstex and Scican, Matachana Group, Midmark, Nakanishi, Danaher, W&H, Planmeca, Getinge, and Tuttnauer, among others.