Free Analysis
A dental implant is basically the artificial replacement of teeth with a permanent base. Dental implant mainly consists of three parts abutment, the implant, and the crown. It can be used to replace a single tooth, multiple teeth, or the upper or lower set of the teeth. Loss of teeth or periodontal disease or any sort of injury to the patient usually leads to dental implantation. Dental implant is the most effective and popular form of treatment to replace the missing teeth and a long-term option for restoring smile. It helps to improve oral and dental care thus providing convenience in chewing, durability, improved appearance, and ease in living.
Oral hygiene concerns and increase in the life expectancy have raised dental visits. Also, the aging population is playing a pivotal role in driving the demand for dental implants market. Influence of cosmetics in improving one's appearance and smile and rise in awareness of the aesthetic sense of oral and dental care is further fueling the dental implants market. Additionally, medical tourism is providing cost-effective treatment with assured quality standard. With subsequent economic surge and globalization, the dental tourism market is been evolving in emerging economies, which is providing lucrative opportunities for dental implants market. Dental grafting, advancement in technology, lesser invasive procedures, delivery of desired outcome, and provision of reliable solutions has developed trust is patients to go for dental implants.
Based on product, the dental implants market is segmented into subperiosteal implants, intramucosal implants, endosteal implants, and transosteal implants. Based on material, the market is segmented into titanium implants and zirconium implants. The end user segment is classified into hospitals, dental clinics, academia, and research institutes.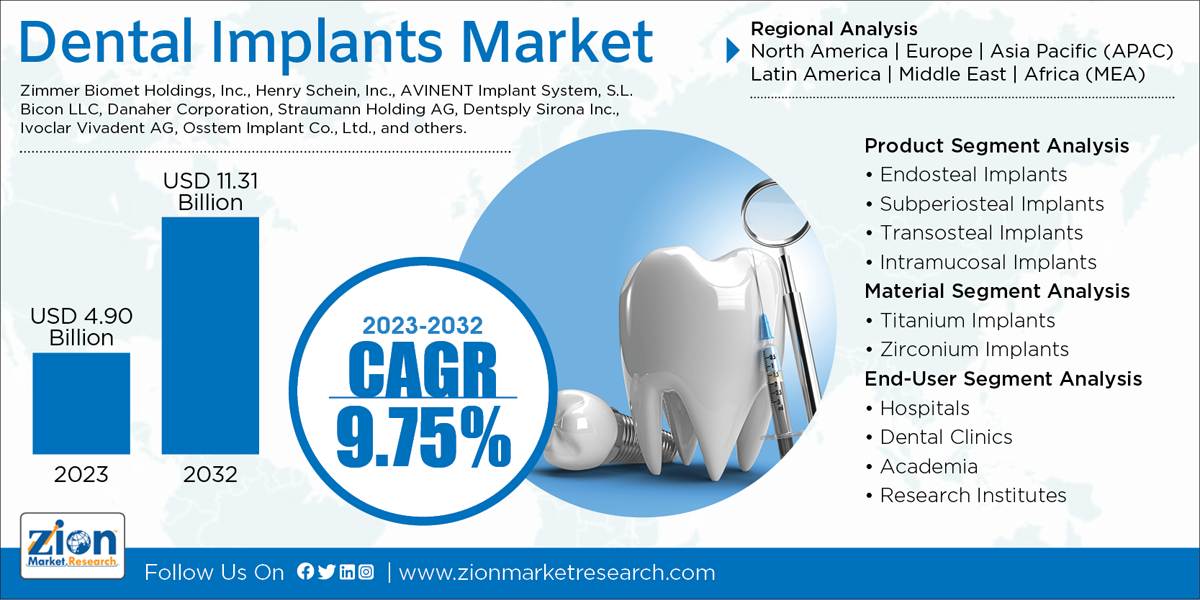 Europe and North America are expected to lead the dental implants market for dental implants in the forecast timeframe. These regions are expected to account for almost 61% of overall market share by 2024. There is seen an increased competition in the market for dental implants primarily due to the leading manufacturers like DENTSPLY Sirona and Straumann in Europe. According to stats provided by Europa, over 26% of the European population is anticipated to come under the group of aged category by 2020. This along with high unrestricted income group in the region is expected to provide a highly productive market for dental implants. Germany is among the leading markets for the dental implants. This country, unlike any other country in Europe spends the highest per capita income on teeth.
Some of the key players in dental implant dental implants market include as Zimmer Biomet Holdings, Inc., Henry Schein, Inc., AVINENT Implant System, S.L. Bicon LLC, Danaher Corporation, Straumann Holding AG, Dentsply Sirona Inc., Ivoclar Vivadent AG, Osstem Implant Co., Ltd., and others.