Analysis
Dental bone grafts are generally used as scaffolds or fillers, which facilitate bone formation and help in wound healing. In bone grafting method, a de novo bone is created that helps to heal bones that were damaged during a dental extraction procedure.
According to the World Health Organization, in 2010, nearly 524 million of the total global population was elderly. The total number of the elderly population is anticipated to reach around 2 billion by 2050. Aging affects the tooth enamel, which increases the risk of several dental diseases among the geriatric population. The rapid increase in the geriatric population worldwide is mainly fueling the global dental bone graft substitutes market. The increasing prevalence of periodontal diseases, growing awareness about the benefits of bone graft substitutes, rising awareness about the importance of dental care, escalating number of dental extraction procedures, and accelerating initiatives taken by government for dental health are some other factors driving the dental bone graft substitutes market. However, the high treatment cost and lack of reimbursement scenario may limit the dental bone graft substitutes market globally.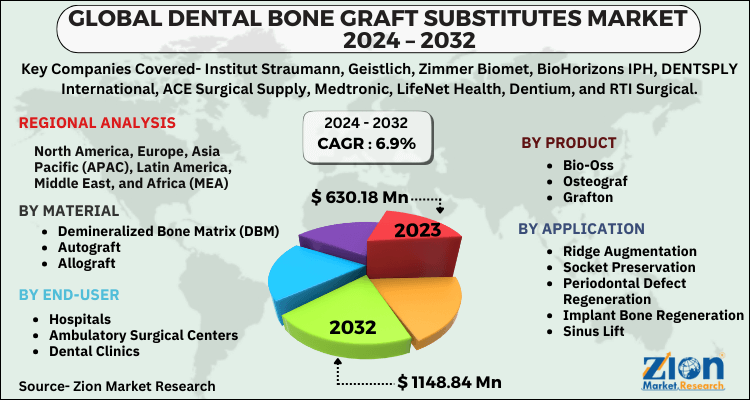 The dental bone graft substitutes market is divided based on material, application, product, and end-user. Based on material, the market includes autograft, demineralized bone matrix, xenograft, allograft, and synthetic bone graft substitute. By application, the dental bone graft substitutes market includes ridge augmentation, periodontal defect regeneration, sinus lift, implant bone regeneration, socket preservation, and others. Socket preservation is anticipated to dominate the global market, due to the increase in the number of dental extractions. On the basis of product, the market is fragmented into bio-oss, grafton, osteograf, and others. By end-user, the dental bone graft substitutes market is categorized into ambulatory surgical centers, hospitals, and dental clinics. The increasing number of dental clinics establishment in developing countries is anticipated to fuel this segment's growth.
Europe dominated the global dental bone graft substitutes market in 2018, due to the early introduction of highly developed equipment for dental treatments, availability of a highly skilled workforce, and the presence of a large geriatric patient pool suffering from dental problems. The Asia Pacific region is anticipated to show the highest CAGR in the global dental bone graft substitutes market over the upcoming years, owing to the rising investments made by government and companies for the improvement of oral health, high prevalence of dental periodontal diseases in developing countries, and growing awareness about bone graft substitute benefits.
Some major players of the global dental bone graft substitutes market are Institut Straumann, Geistlich, Zimmer Biomet, BioHorizons IPH, DENTSPLY International, ACE Surgical Supply, Medtronic, LifeNet Health, Dentium, and RTI Surgical.