Free Analysis
Database automation is the use of automatic devices, processes, and systems for gathering, processing, and storing information. It is done to reduce costs and simplify processes that are performed manually.
Database automation market is expected to grow significantly during the forecast time period, due to technology use in various financial processes. Various financial institutes are investing in technology to automate their business processes. In 2017, technological investments made by various banks in Europe, North America, and the Asia Pacific were about USD 57.3 billion as compared to USD 48.4 billion in 2015. Furthermore, in 2015, the financial sector of Singapore allocated USD 225 million to set up labs and develop infrastructure for FinTech services. This, in turn, is anticipated to propel the database automation market during the forecast time period. Rising technological investments made in the retail sector and the use of blockchain technology are likely to play a vital role in driving the database automation market. Retailers, such as eBay, Amazon, and Walmart, are using blockchain technology for efficient inventory management. In 2018, Walmart announced to use blockchain to track each bag of lettuce and spinach. This blockchain technology was provided by IBM Corporation to Walmart. However, rising cyber-attacks might limit the database automation market during the estimated timeframe. Organizations are opting for these automated solutions as they provide security and help in preventing data theft.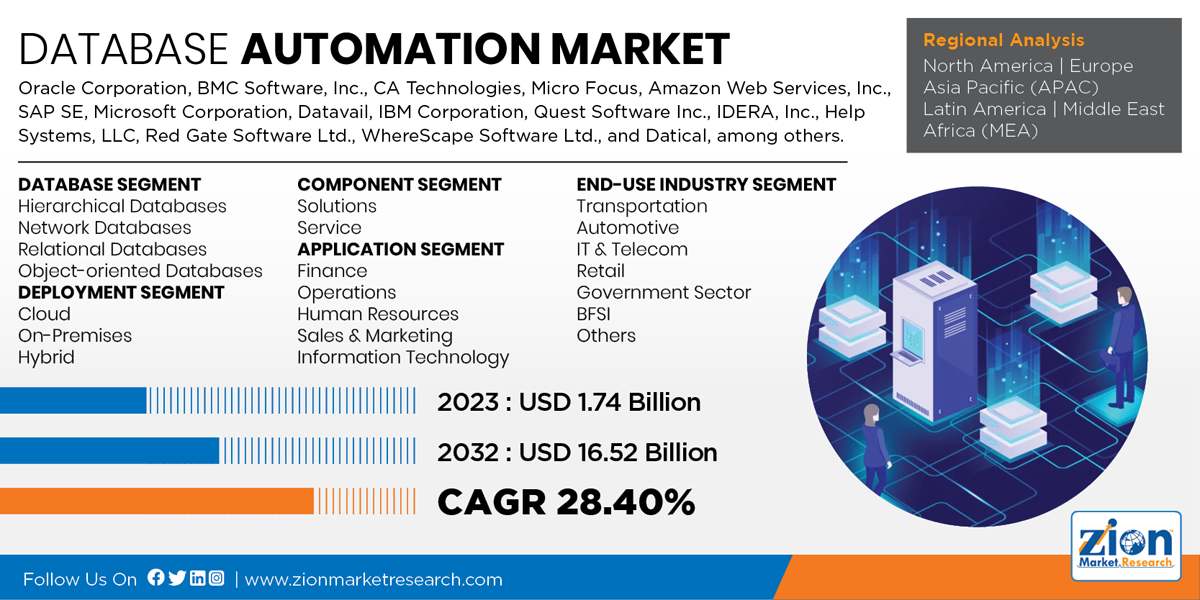 The database automation market is divided based on database, deployment, component, application, and end-user industry. By deployment, the database automation market is segmented into cloud, on-premises, and hybrid. Cloud segment is projected to hold a significant market share during the estimated timeframe, due to the rising investments made by various firms in cloud technology. Various end-use industries of the database automation market consist of transportation, automotive, IT and telecom, retail, government sector, BFSI, and others. The retail sector is anticipated to grow substantially over the estimated timeframe, due to the rising adoption of online shopping in the retail sector.
The Asia Pacific is likely to hold a substantial share in the global database automation market over the forecast timeframe, due to the technological advancements happening in China, India, and South Korea. Furthermore, IT giants, such as Microsoft Corporation and IBM Corporation, are taking initiatives to offer their automated services in the region. In 2016, Microsoft launched an IoT innovation center in Taiwan. Further, IBM Corporation is planning to invest in China's initiative of "AI-enabled China."
Certain major players operating in the global database automation market are Oracle Corporation, BMC Software, Inc., CA Technologies, Micro Focus, Amazon Web Services, Inc., SAP SE, Microsoft Corporation, Datavail, IBM Corporation, Quest Software Inc., IDERA, Inc., Help Systems, LLC, Red Gate Software Ltd., WhereScape Software Ltd., and Datical, among others.