Free Analysis
CT scan is also known as computerized axial tomography (CAT). It is a diagnostic medical test which produces multiple images of the internal body parts through X-rays. The computed technology uses sophisticated X-ray technology which helps to diagnose a range of diseases and conditions of an individual patient. CT scan is non-invasive, painless, less time consuming, and is an accurate diagnostic technique. CT scan images of internal organs, soft tissue, blood vessels, and bones give better details than the conventional X-rays, mainly of soft tissues and blood vessels. It is used in emergency cases to reveal the internal bleeding and injuries. As it provides a comprehensive cross-sectional outlook of all types of tissue it is considered as one of the most accurate and fastest tools to examine the abdomen, pelvis, and chest issues.
Continuous progress and innovation in the medical devices let the end-users to expand their medical indications for use and applications in the future. Increasing preference of the patients for minimally invasive diagnostic procedures is the major factor triggering the growth of the global CT scanner market. Moreover rising prevalence of targeted diseases and growing patient emphasis on early disease diagnosis will fuel the market for CT scan devices globally. However, the CT scanner is cost intensive equipment and its high cost is anticipated to restrict the growth of the market in the underdeveloped economies.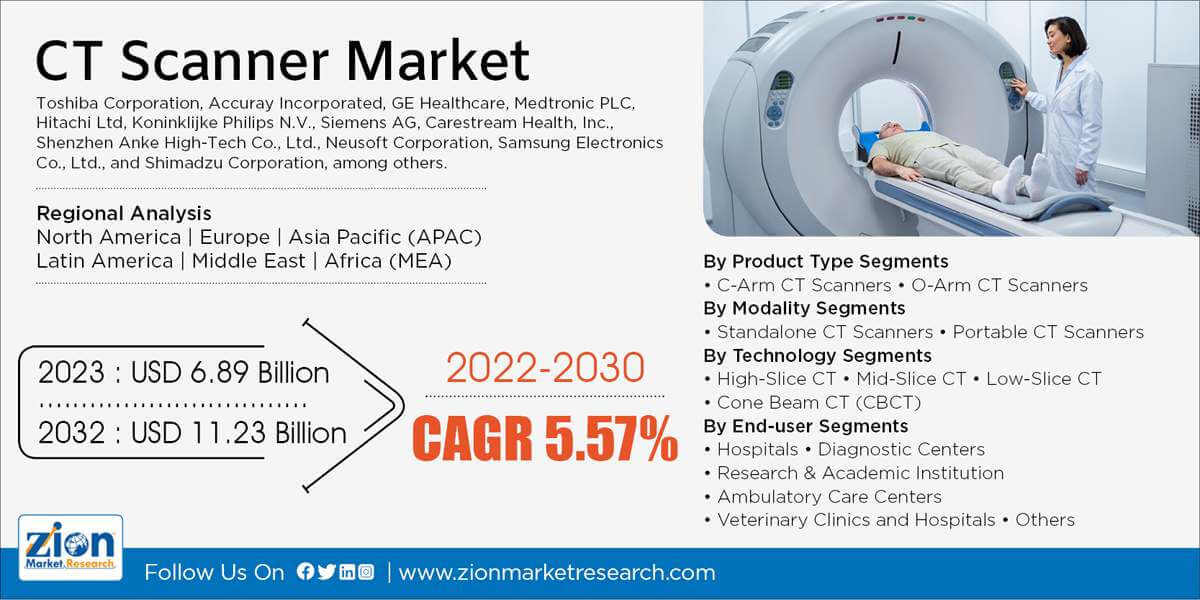 The global CT scanner market is segmented by product type, modality, technology, end-users, and by region. Based on product type, the market is segmented into C-Arm CT scanners and O-Arm CT scanners. Rising incidence of chronic diseases coupled with increasing geriatric population is a critical factor responsible for the growth of the global CT scanner market. On the basis of modality, the market is classified into standalone CT scanners and portable CT scanners. Based on technology, the global CT scanner market is categorized into cone beam CT (CBCT), high-slice CT, mid-slice CT, and low-slice CT. Among which, high-slice CT is anticipated to dominate the technology segment owing to its improved clinical utility, as it consists of 256 slice scanner, that has 10 to 12 cm detector width, which would assist in scanning wide range of organs, together with heart, brain, lungs and liver, entire joints, just in a single rotation. By end-users, the market is segmented into hospitals, diagnostic centers, research & academic institution, ambulatory care centers, veterinary clinics & hospitals, and others. Among which, hospitals & diagnostic centers contributed to the largest share of the global CT scanner market. The veterinary clinics & hospitals segment is anticipated to grow at the highest CAGR owing to increasing market demand for improved virility of livestock & poultry and growing incidences of major veterinary diseases.
Based on geographical regions, the global market for CT scanner is segmented into North America, Europe, Asia Pacific, Latin America, and the Middle East & Africa. Among which, North America held a dominant share of the global CT scanner market in 2017. Moreover, the region is anticipated to continue with its regional domination over the forecast years as well. The growth of this regional market is attributed to the robust reimbursement policies and coming up innovative product lines by the prominent market players. The Asia Pacific region anticipated growing at the significant CAGR by the end of 2024. With increased government support and high unmet medical needs in the Asia Pacific the market is expected to witness significant growth from 2018 to 2024.
Some of the key players in the CT scanner market are Toshiba Corporation, Accuray Incorporated, GE Healthcare, Medtronic Plc, Hitachi Ltd., Koninklijke Philips N.V., Siemens AG, Carestream Health, Inc., Shenzhen Anke High-Tech Co., Ltd., Neusoft Corporation, Samsung Electronics Co., Ltd., and Shimadzu Corporation.