Analysis
A crystal oscillator is an electronic oscillator that makes use of crystal as a frequency selective element to obtain an inverse piezoelectric effect. It makes use of the mechanical resonance of the vibrating crystal, which has piezoelectric properties, in order to obtain an electric signal with a high-precision frequency. This frequency is commonly used to keep track of time, to provide a stable clock signal for digital integrated circuits and to stabilize frequencies for radio transmitters and receivers. Quartz crystals are manufactured for frequencies from a few tens of kilohertz to tens of megahertz. Most are used for consumer devices such as wristwatches, clocks, radios, computers and cell phones. Quartz crystals are also found inside test and measurement equipment such as counters, signal generators and oscilloscopes.
Global crystal oscillators market is expected to foresee gains owing to increasing application of quartz-based consumer electronic products including clocks, radios, and computers. Crystal oscillators have emerged as highest growing market across different industry verticals. Crystal Oscillator has application in smartphone and tablet industry, where the manufacturers used oscillator mediums including TCXOs, VCXOs, SPXOs and OCXOs on a large scale. Growth demand for smartphones and tablets in emerging markets of China and India in light of new product launches by various companies is expected to promote the usage of oscillator product forms.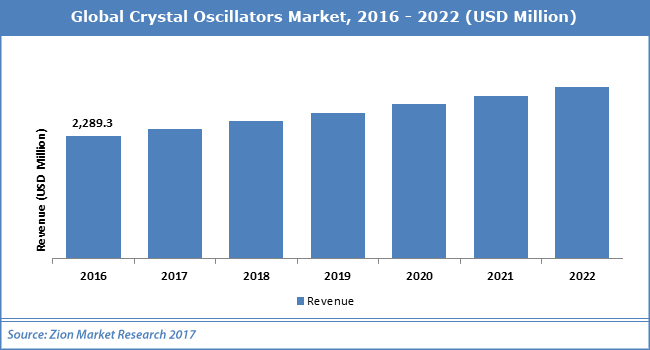 The crystal oscillators are segmented on the basis of general circuitry, mounting scheme, crystal cut, and application. On the basis of general circuitry, the global crystal oscillators market is segmented into SPXO, TCXO, VCXO, FCXO, and OCXO. TCXO segment held the largest market share due to huge demand from telecom and networking. On the basis of mounting scheme, the global crystal oscillators market is segmented into surface mount and thru-hole. The crystal oscillators market for surface mount accounted for the largest share in 2016. On the basis of crystal cut, the global crystal oscillators market is segmented into AT, BT, and SC. AT cut dominated the global crystal oscillators with more than 75% market share in 2016. On the basis of application, the global crystal oscillators market is segmented into telecom & networking, consumer electronics, military & aerospace, research & measurement, industrial, automotive, and medical equipment.
Based on regional segmentation, Asia Pacific was the most attractive market for crystal oscillators in 2016. It accounted for more than 30% share of the entire market and further it is expected to witness significant growth in the near future. This is mainly attributed to several established crystal oscillator manufacturing and consumer electronics companies. Moreover, this can also be attributed to the extension of telecommunication network in China, Thailand, Malaysia, South Korea, India, and other developing countries. North America and Europe are also expected to be leading markets for crystal oscillators during the forecast period.
Some of the major players involved in the global crystal oscillators market include TXC Corporation, Hosonic Electronic Co Ltd., KYOCERA Crystal Device Corporation, Seiko Epson Corp, Nihon Dempa Kogyo Co., Ltd., Murata Manufacturing, Daishinku Corporation (KDS), River Eletec Corporation, Vectron International, and Rakon Ltd. among others.