Analysis
Corrugated packaging is designed by considering bundle format shipping. The boxes are capable to resist pressure from various shapes and size products being shipped in the same compartment. Corrugated box edges are composed from the corrugated paper that creates air column, thus functioning as a cushion. Corrugated boxes are suitable for multiple packaging needs owing to its ridges of varying flexibility and strength level.
The upsurge in e-commerce business along with delivery & courier services is propelling corrugated packaging market. Further cost benefits, environmental sustainability, and robust industrialization in developing countries is boosting product demand globally. This packaging is recognized as a most cost-effective solution that has highest recycling rate compared to its counterparts and is composed with all the natural materials. In the current era, both regulatory bodies and consumers have raised concerns towards sustainability and environment. Government is facing challenges associated with increasing landfills that has resulted in growing demand for recyclable and environment-friendly packaging material. The government of developing countries is encouraging the use of corrugated packaging in the sustainable packaging industry. However, inabilities of the material to withstand harsh indoor and outdoor conditions are major challenges that can restrain the growth of the market.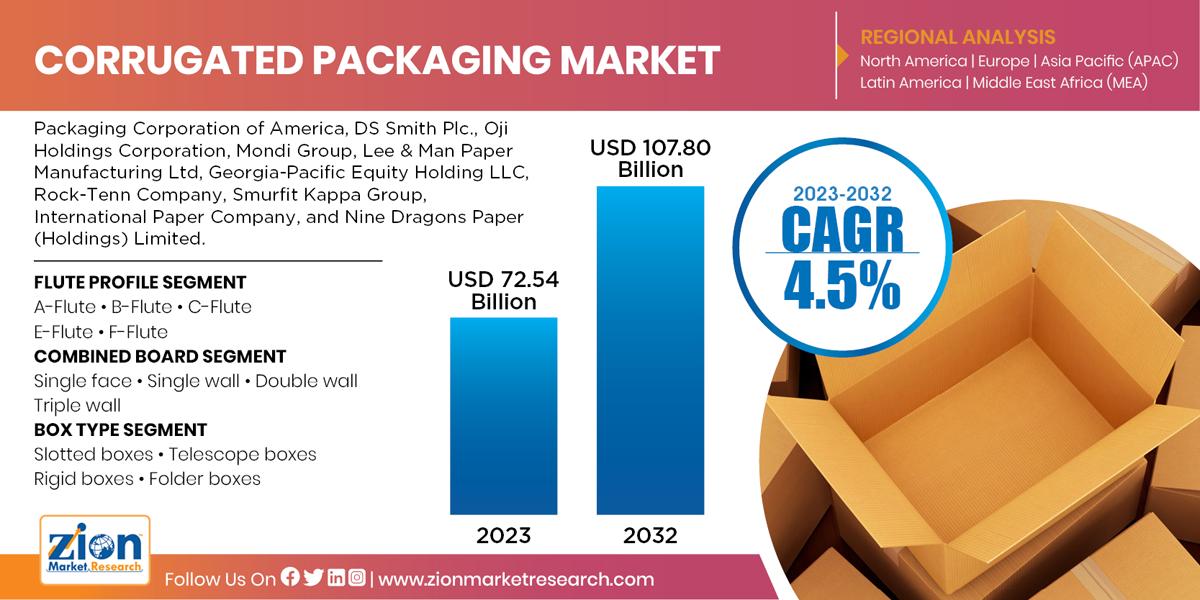 Recent developments in the sector include zero defect technology, cooler corrugating, decreasing corrugated board weight, improved corrosion resistance and water resistance along with exploring new fields of nanotechnology and microencapsulation.
Corrugated packaging market is bifurcated as per its flute profile by A-Flute, B-Flute, C-Flute, E-Flute, and F-Flute. A flute will witness a substantial growth rate during the forecast period due to its enhanced cushioning effect, as it has a profile in the range of 4 to 4.8 mm. As per combined board category, the industry is divided into a single face, single wall, double wall and triple wall segments. The double wall is anticipated to contribute significantly in the market owing to its rising usage in food & beverage and pharmaceutical industries. These packaging can be done in various boxes such as folder box, rigid box, telescope box and slotted boxes. Folding boxes account for maximum share in the market due to its usage in retail and e-commerce sectors. Various applications pertaining to corrugated packaging are pharmaceuticals, electronics, automotive, consumer goods and chemical industries. Corrugated packaging is widely used in consumer goods industry packaging of food & beverage products.
Developed economies of North America are making the region a recognized contributor in the market. The region with sufficient paper recycling capability coupled with established infrastructure is driving paper packaging market. Brazil, Russia, India, China, and South Africa (BRICS) had registered robust industrialization scenario during the past decade. Whereas China is known as the global leader of industrial output. In 2012, China's industrial production was USD 3.7 trillion and that of U.S. was USD 2.9 trillion. Positive outlook of industrialization in the Asia Pacific will contribute significantly in corrugated packaging market till 2023.
Key producers in the corrugated packaging market include Packaging Corporation of America, DS Smith Plc., Oji Holdings Corporation, Mondi Group, Lee & Man Paper Manufacturing Ltd, Georgia-Pacific Equity Holding LLC, Rock-Tenn Company, Smurfit Kappa Group, International Paper Company, and Nine Dragons Paper (Holdings) Limited.