Analysis
Control valves regulate the liquid flow by variable flow dimensions of the flow passageway of a gas or fluid in a system, as guided by a signal from a controller. These valves are utilized to maintain operational situations like liquid level, pressure, flow, and temperature.
The global control valves market is likely to experience significant growth over the upcoming years, owing to the flourishing power generation industry, swift industrialization, and substantial technological developments witnessed in mechanical engineering-based procedures. Rising investments in process industries, such as energy and power, food and beverages, petrochemical, oil and gas, and pharmaceutical, are also expected to increase the demand for control valves in the years to come. However, the lack of skilled labors may hamper the global control valves market development in the future. Alternatively, the escalating demand by various industries for IoT and Industry 4.0 architecture in emerging countries is likely to set new opportunities for the major players operating in the control valves market.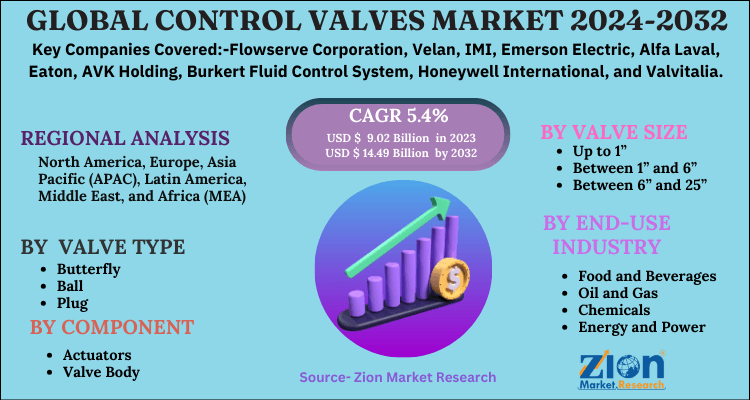 The global control valves market is divided based on valve type, component, valve size, and end-user industry. On the basis of the valve type, the global control valves market includes butterfly, ball, plug, gate, diaphragm, and piston. By component, this global market is fragmented into actuators, valve body, and others. The valve size segment of the control valves market includes above 50", between 25" and 50", between 6" and 25", between 1" and 6", and up to 1". The end-user industry segment comprises food and beverages, oil and gas, chemicals, energy, and power, water and wastewater treatment, construction, pulp and paper, pharmaceuticals, and others. The oil and gas industry was the most attractive segment in 2018 globally and is anticipated to hold the maximum share of the control valve market in the upcoming years.
North America was the leading region for control valves and held a significant share of the global control valves market in 2018. The Asia Pacific region is estimated to register the highest CAGR in the control valves market globally over the forecast time period. This growth can be mainly attributed to the adoption of automated valve operations in end-user industries across the region and the increasing demand for control valves, especially from energy and power, food and beverages, water and wastewater, and pharmaceutical industries.
Some major players of the global control valves market are Flowserve Corporation, Velan, IMI, Emerson Electric, Alfa Laval, Eaton, AVK Holding, Burkert Fluid Control System, Honeywell International, and Valvitalia.