Free Analysis
Lubricants are important for the proper functioning of machines and their parts. The main purpose of lubricants is to minimize the wear and tear caused by friction. Lubricants prevent the residual deposition and sludge formation over machines and equipment. Lubricants are also utilized for transferring heat as a sealant for gases, prevent rust and corrosion, and transmit power. Construction lubricants are utilized mainly to minimize friction between surfaces or moving parts of any equipment and improve the equipment's efficiency that is used by the construction sector. Construction lubricants are utilized for construction machinery and have diverse attributes, which aid in shaping, building, and strengthening the construction structure.
The rapid urbanization coupled with industrialization is the primary factor that is likely to fuel the construction lubricants market globally over the forecast timeline. The ongoing trend of constructing smart buildings and infrastructures in the emerging nations, such as India, China, and Brazil, is anticipated to further propel the construction lubricants market in the future. Before industrialization, only one-third of the global population lived in cities. But, currently, more than half of the global population is lives in urban and semi-urban areas. Additionally, the increasing demand for hydraulic fluids by the construction industry is also projected to boost the construction lubricants market in the upcoming years. However, the fluctuating crude oil prices may hinder the construction lubricants market growth in the future.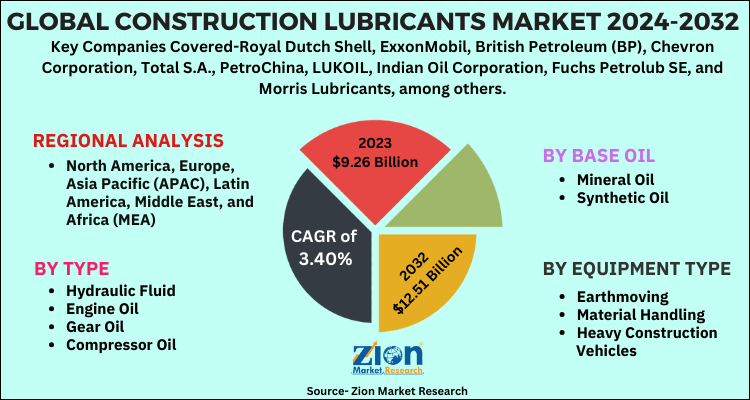 Based on the type, the construction lubricants market is segmented into hydraulic fluid, engine oil, gear oil, and compressor oil. On the basis of base oil, the market is categorized into mineral oil and synthetic oil. On the basis of application, the market for construction lubricants is fragmented into earthmoving, material handling, and heavy construction vehicles.
By region, Asia Pacific held an extensive revenue share of the global construction lubricants market and is expected to dominate the global market in the upcoming years. This can be attributed to the ongoing construction activities in the region, due to rapid industrialization and urbanization, and the rising investments made in the construction industry for infrastructural growth of the region. The North American region is expected to provide significant growth opportunities in the global construction lubricants market, owing to the increasing adoption of synthetic oil lubricants for construction equipment and heavy earthmoving vehicles and the ongoing developments regarding zinc-free lubricants
Some key players of the global construction lubricants market are Royal Dutch Shell, ExxonMobil, British Petroleum (BP), Chevron Corporation, Total S.A., PetroChina, LUKOIL, Indian Oil Corporation, Fuchs Petrolub SE, and Morris Lubricants, among others.