Analysis
Compressor oil is a significant component for any air conditioning system. These oils are used for lubrication, reducing heat, decreasing downtime, and in repairing machines. Heat generated by compressors during operations leads to high power consumption and wear and tear of machines. Therefore, compressor oils assist in heat dissipation and control the equipment temperature. The benefits of compressor oils include improving the overall performance of equipment, reducing friction, and protecting surface films. They also serve as a sealing fluid, reduce energy consumption, and decrease deposition of harmful compounds.
The rising number of manufacturing companies has led to an increased demand for the compressor oils, which is majorly driving the global compressor oil market growth. Easy availability, low-cost maintenance, and high-performance capability of compressor oils are positively influencing the compressor oils market globally. The cost optimization practice is another key trend that is fuelling the market growth of compressor oils globally. Different manufacturers implement continuous improvements to reduce the power consumption of equipment and ensure constant operational flow. Therefore, raising concerns about low power consumption among manufacturing industries are anticipated to further drive the compressor oil market progress over the forecast timespan. However, the increasing demand for oil-free compressors and escalating costs of synthetic and bio-based compressor oils are hampering the compressor oil market.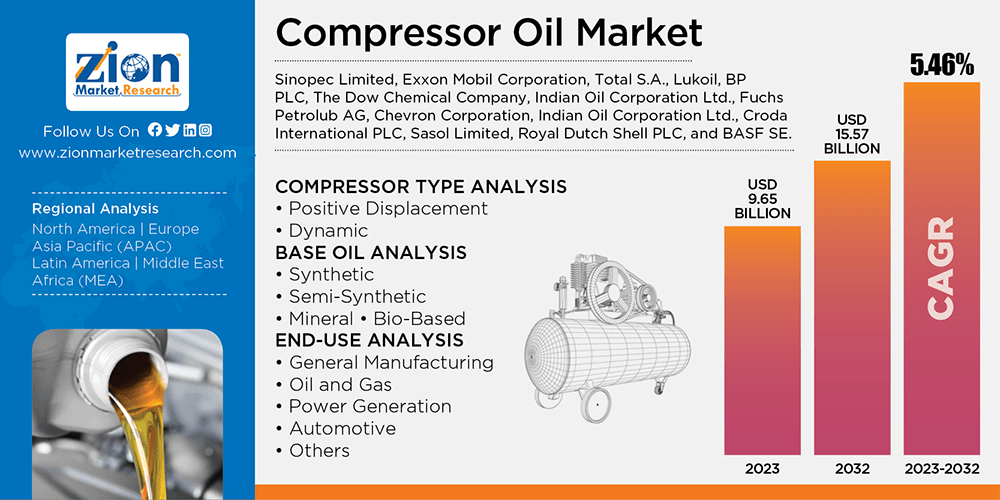 On the basis of compressor type, the compressor oil market is divided into positive displacement and dynamic. Based on base oil, the market is sectored into semi-synthetic, synthetic, bio-based, and mineral. Considering the end-use segment, the market is segmented into power generation, general manufacturing, oil and gas, automotive, and others.
By region, Asia Pacific held the major market share in 2018 and is anticipated to dominate the global compressor oil market in the upcoming years. This regional growth can be attributed to the presence of a large number of manufacturing and construction industries in Japan, India, China, and South Korea. Foreign and domestic investments in key industries, such as automotive, energy, manufacturing, and construction have been consistently rising since the last few years in this region. Furthermore, the rise in vehicle fleet results in escalating demand for automobiles. Therefore, the constant growth in the automotive industries in this region is also boosting the region's compressor oil market.
Some major players operating in the compressor oil market are Sinopec Limited, Exxon Mobil Corporation, Total S.A., Lukoil, BP PLC, The Dow Chemical Company, Indian Oil Corporation Ltd., Fuchs Petrolub AG, Chevron Corporation, Indian Oil Corporation Ltd., Croda International PLC, Sasol Limited, Royal Dutch Shell PLC, and BASF SE.