Analysis
Composite coatings are applied to form a protective layer of corrosion on the metal surface along with making it waterproof. These coatings are made with epoxy and polyurethane resins and are ideal for various industries, such as aerospace and defense and oil and gas, among others.
The composite coatings are basically applied to steel surfaces to form a protective coating layer for protection against corrosion, fire, and heat. These coatings generally act as a thermal barrier between the concrete and other materials. The recent increase in the usage of composite coatings witnessed in the construction industry globally is one of the major factors supporting this market growth. The durability and excellent water resistance properties of composite coatings are boosting its use in the construction industry. The construction industry is growing at a high rate Asia Pacific region. China and India are expected to witness significant growth by 2024. There is a high demand for composite coatings in various industries, which has led to various technical developments by the key players. The automotive industry is also one of the major end-use segments of the composite coatings market and is likely to grow in the upcoming period. The global automotive production was more than 90.10 million units in 2015. This high production was due to the huge demand for automobiles in various industries. For instance, China manufactured more than 24 million automobile units in 2015. This data shows that the automotive industry is growing at a high rate and increased amount of composite coatings are used in automotive industries, due to anti-corrosion, and water-resistant characteristics. Development of automotive industry is indirectly supporting the growth of the composite coatings market. However, high processing costs might act as a restraining factor for the composite coatings market. Alternatively, the high demand for composite coatings for anti-corrosion and lubrication in transportation and infrastructure industries expected to provide lucrative opportunities for the key players of the composite coatings market.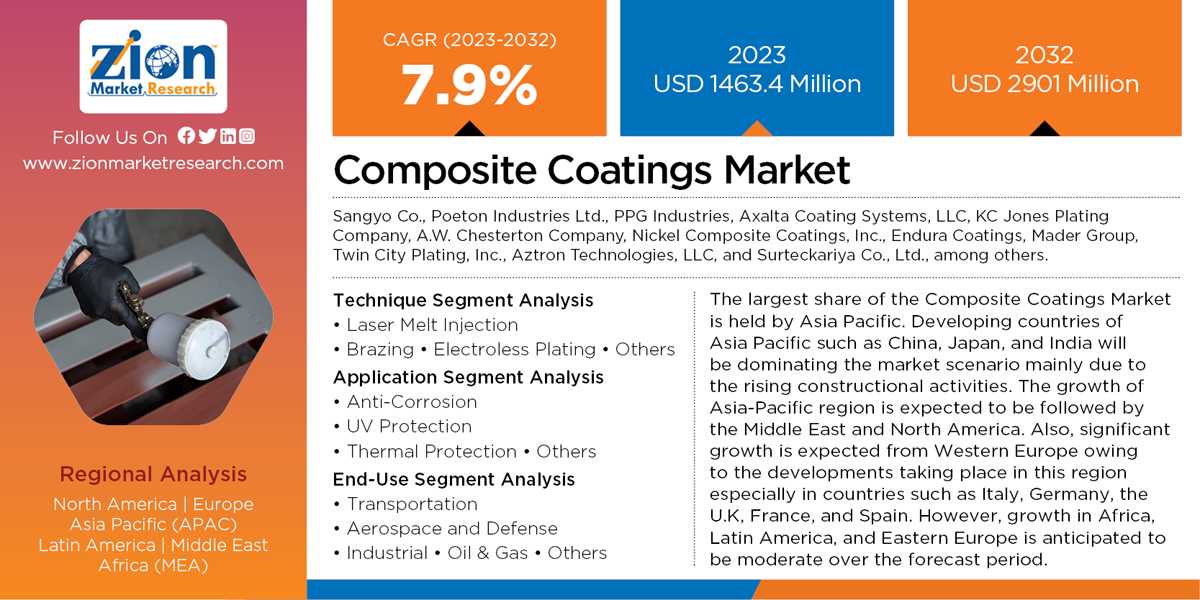 The global composite coatings market can be segmented based technique, application, and end-use. By technique, this market is divided into brazing, electroless plating, and others. By application, this market is segmented into anti-corrosion, thermal protection, UV protection, laser melt injection, and others. By end-user, this market is classified into industrial, transportation, aerospace and defense, oil and gas, and others. The industrial segment is further sub-segmented into medical and food industries. The automotive industry is likely to be the dominant segment in the forecast time period. Increase in the demand for automotive is also expected to drive the demand for composite coatings in the years to come.
Based on regions, the market is segmented into Europe, North America, Asia Pacific, Latin America, and the Middle East and Africa. The Asia Pacific contributed significantly toward composite coatings market share in terms of volume in2017. This was due to the increase in the demand for automotive in the region. The North American composite coatings market is also likely to witness noteworthy growth during the forecast time period.
Some major players operating in the global composite coatings market are Sangyo Co., Poeton Industries Ltd., PPG Industries, Axalta Coating Systems, LLC, KC Jones Plating Company, A.W. Chesterton Company, Nickel Composite Coatings, Inc., Endura Coatings, Mader Group, Twin City Plating,Inc., Aztron Technologies, LLC, and Surteckariya Co., Ltd.,among others.