Free Analysis
Colostrum is a form of milk that is formed by the mammary glands of the mammals during their late pregnancy and after giving birth. Colostrum has high percentages of carbohydrates, proteins, and antibiotics along with low-fat contents. This, in turn, is fuelling the demand for colostrum in various applications, such as animal feed, nutritional supplements, infant food, etc. It is a major source of immunoglobulin, which accounts for higher IgG as compared to other products. This property of colostrum helps to strengthen the immune system. Additionally, it also possesses anti-aging benefits. Owing to the presence of high level of IgG, colostrum-based products aid disease-fighting abilities of the human immune system. This is the major factor expected to drive the colostrum market growth over the forecast timeframe. Colostrum consists of a bioactive component that is also expected to support the colostrum market over the forecast time period.
Rising health awareness among consumers is expected to drive the global colostrum market growth over the forecast time period. The increasing demand for various colostrum-based products, such as probiotic yogurts, infant formulas, etc. is expected to further drive the colostrum market globally in the upcoming years. Colostrum contains protective white cells that aid in eliminating viruses and bacteria, which cause harmful diseases. These properties of colostrum have increased its demand among various end-users. There are numerous untapped areas in the underdeveloped and developing countries, owing to the lack of awareness about the product, which could provide potential growth opportunities for the colostrum market in the future.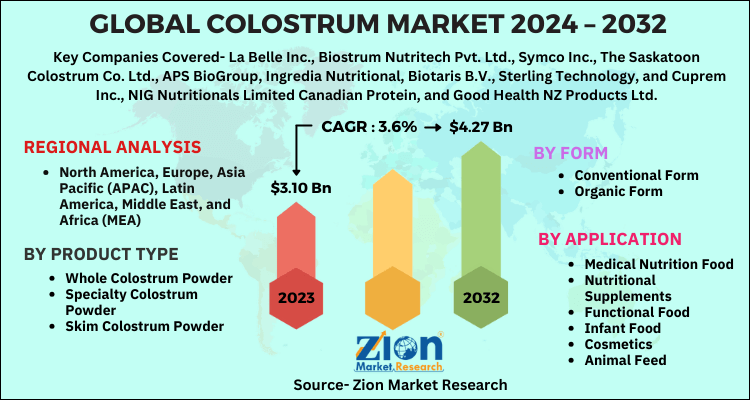 Based on product type, the global colostrum market is segmented into specialty colostrum powder, whole colostrum powder, and skim colostrum powder. On the basis of form, the market is bifurcated into conventional form and organic form. Based on application, the market is fragmented into medical nutrition food, nutritional supplements, functional food, infant food, cosmetics, and animal feed.
By region, North America contributed a major revenue share to the global colostrum market in 2018, due to the increasing population of health-conscious consumers regarding the consumption of healthy foods and various technological developments in the production process. Asia Pacific is expected to show the highest CAGR over the estimated timeframe, owing to the rising awareness levels among consumers regarding the adoption of healthy food practices.
Some key players operating in the global colostrum market include La Belle Inc., Biostrum Nutritech Pvt. Ltd., Symco Inc., The Saskatoon Colostrum Co. Ltd., APS BioGroup, Ingredia Nutritional, Biotaris B.V., Sterling Technology, and Cuprem Inc., NIG Nutritionals Limited Canadian Protein, and Good Health NZ Products Ltd.