Analysis
Colonoscopy devices are medical devices used for internal examination of various vital organs of the body, such as colon, large intestines, and rectum. It consists of a camera attached to a tube. The tube is used to traverse the length and examine the large intestines. It is very useful to detect colorectal cancer. It helps in detecting symptoms like abnormal growth, changes in bowel movements, and abdominal pain. It is often referred to as the gold standard in the prevention of colorectal cancer. There are many risks associated with the screening examination process, such as loss of lesions. Colonoscopy can be performed with endoscopic techniques and devices, which provide various advantages, such as reduction of pain, improved visualization, and prevention of looping in redundant colons.
The global colonoscopy devices market growth is due to the increasing number of intestinal disorders cases, such as rectal cancer, colon cancer, ulceration, polyps, and GI bleeding-related disorders. The mortality and morbidity rates are increasing due to the rise in these disorders, which has resulted in the increased demand for screening processes using colonoscopy devices. Additionally, governments are taking steps to increase awareness among people about the importance of minimally-invasive surgeries. However, various risks associated with the surgical processes and the lack of training provided to doctors to treat using these sophisticated instruments may limit the colonoscopy devices market growth globally.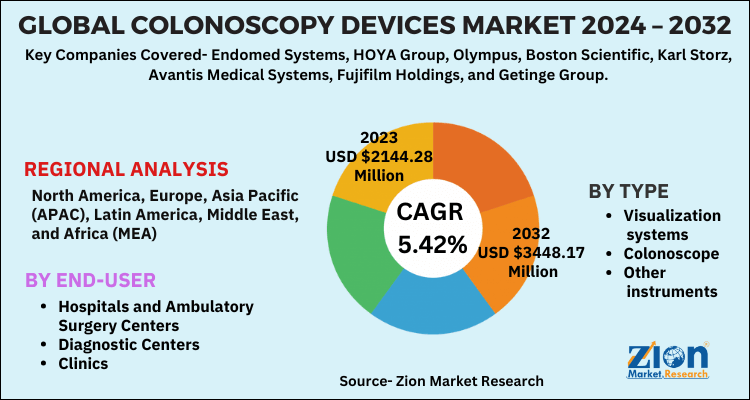 The colonoscopy devices market is divided into based on type and end-user. Based on type, the market is divided into visualization systems, colonoscope, and other instruments. A colonoscope is an instrument used to perform a colonoscopy, which is a diagnostic process. This thin, long, and flexible instrument is inserted into the anus to inspect the colon and rectum. It consists of a light source and a digital camera. The end-user segment of the market comprises hospitals and ambulatory surgery centers, diagnostic centers, clinics, and others.
North America is a significant contributor to the global colonoscopy devices market, mainly due to increased detection of diseases like colorectal cancer and bleeding-related disorders. Additionally, the regional population is becoming more aware of the disorders related to colon and opts for regular intensive checkups. The European colonoscopy devices market holds a large share of globally, owing to the increasing government funding for intensive medical procedures. Companies in Europe are coming up with next-generation and innovative solutions to perform the rather uncomfortable and painful colonoscopies. Substantial developments witnessed related to new types of multi-use and single-use devices has also resulted in the steady growth of the European market. The Asia Pacific region will register noticeable CAGR in the global colonoscopy devices market in the future, due to rapidly growing colonoscopy devices demand in India and China. There is increased use of colposcopies in these countries owing to better infrastructure, healthcare facilities, and hospitals.
Some key players operating in the global colonoscopy devices market are Endomed Systems, HOYA Group, Olympus, Boston Scientific, Karl Storz, Avantis Medical Systems, Fujifilm Holdings, and Getinge Group.