Analysis
Cladding is the process of coating one material over the other, to ensure protection from external environmental forces, such as wind, rain, noise, etc. It is mostly used in buildings to improve their overall appearance.
The cladding systems market is likely to witness significant growth, owing to the rising construction of residential and commercial buildings. The number of houses and buildings has been increasing considerably over time globally. Moreover, the rising awareness about the advantages of cladding has surged its usage, which is further driving the cladding systems market. The main function of cladding systems is protection, but it is also used for decorative purposes and to improve a building's exterior appearance. It is used on floors, walls, and ceilings along with offering thermal insulation and weather-resistance. Cladding is also used for noise-resistance and acts as a barrier between external sounds from entering and internal sounds from leaking. Furthermore, these systems offer wind protection and safeguard the buildings from intense wind impacts. Thus, construction companies and builders globally have realized the importance of cladding and started implementing cladding systems. However, certain cladding materials may lead to fire hazards, which is a restraining factor for the cladding systems market growth.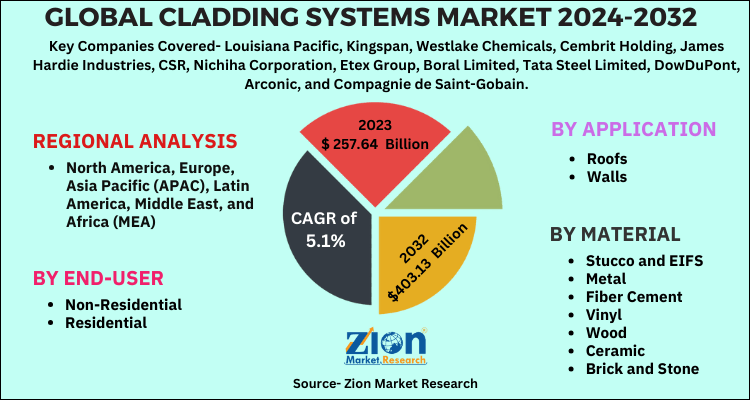 On the basis of material, ceramic cladding shows maximum growth potential due to its huge demand in a wide range of applications. Ceramic tiles are used in modern houses and buildings to enhance their appearance. Numerous factors like durability, design templates, ease of maintenance, comfort, style, and safety are considered while choosing ceramic tiles. These tiles are used in both the exterior and interior of buildings based on specific requirements, aesthetics, and appearance. Moreover, ceramic tiles are used in a wide range of applications like laboratories, government buildings, restaurants, schools, medical centers, and shopping centers.
The North American cladding systems market will show significant growth in the years ahead, owing to its changing climatic conditions. Canada experiences intensely cold temperatures and cladding systems play a vital role due to its ability to provide thermal insulation. Moreover, the U.S. is a vast country with dynamic landscapes, climate, and communities. The east and west coasts experience humidity, whereas Texas is one of the hottest places in the country. Furthermore, the presence of prominent players is also expected to boost the cladding systems market in North America.
Some noticeable players of the cladding systems market are Louisiana Pacific, Kingspan, Westlake Chemicals, Cembrit Holding, James Hardie Industries, CSR, Nichiha Corporation, Etex Group, Boral Limited, Tata Steel Limited, DowDuPont, Arconic, and Compagnie de Saint-Gobain.