Analysis
The circuit breaker is an electrical switching device which can be operated automatically for controlling and protection of electrical power system from damage caused by overload or short circuit. Circuit breakers are mainly used in automotive, construction, oil and gas, power generation, commercial and industrial sector among others. Low-voltage circuit breakers, magnetic circuit breakers, thermal magnetic circuit breakers, common trip breakers, medium-voltage circuit breakers, and high-voltage circuit breakers are the general type of circuit breakers. Further, oil circuit breaker, air circuit breaker and vacuum circuit breaker are also few types of circuit breakers.
The circuit breaker market is expected to witness strong growth within the forecast period. The Canada circuit breaker market is mainly driven by rising demand for power transmission equipment and industrialization & urbanizations. With increasing concern for safety in electronic, automotive, electrical, and telecommunication equipment, the need for advanced circuit breakers has also increased considerably. However, a counterfeit of circuit breakers is becoming the major challenge for this market. Growing expansion activities in T&D (transmission and distribution) network projects is projected to boost the protection devices market. This will, in turn, propel the demand for circuit breakers in the years to come.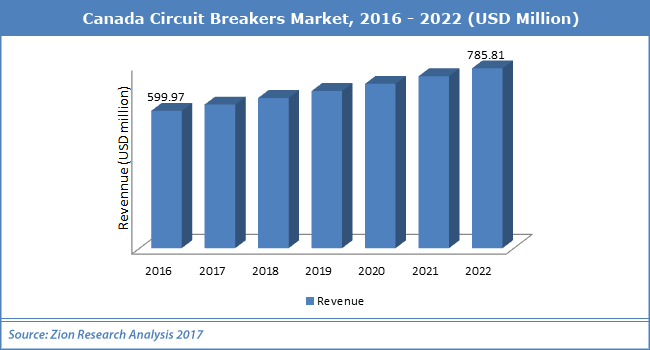 Circuit breakers are available in various types such as low voltage circuit breaker, high voltage circuit breaker, and medium voltage circuit breaker. Low voltage circuit breaks accounted for over 38 % share of the Canada market in 2016and is expected to witness the fastest growth within the forecast period.Low-voltage circuit breakers are mainly used in the domestic, commercial and industrial application.Medium voltage circuit breaker emerged as another key outlet for this market in 2015.High voltage circuit breaker segment is expected to exhibit moderate growth in the next few years due to increasing electrical power consumption.
Some of the key application of circuit breaker market including power, oil, and gas, metals/mining, EPCs and others application. Power segment includes power generation, power transmission, and power distribution. In term of revenue, power (power generation, power transmission, nd power distribution dominated the circuit breakers market and accounted for around 30% share of the total market. oil and gas and metals/mining are another key outlet of this market and are expected to grow at the steady rate over the next few years.Others application like consumers electronics, industrial strengthening application segment is expected to be the fastest-growing segment.
Some of the key players in the Canada circuit breaker market includeABB Ltd., Alstom, Siemens AG, Mitsubishi Electric Corporation, BEL Fuse Inc., Eaton Corporation, General Electric, Schneider Electric, Toshiba, Powell Industries Inc., TE Connectivity, and Mersen.Siemens AG, Toshiba, ABB, and Mitsubishi are some of the prominent players of the circuit breakers market in Canada.