Analysis
Chronic diseases are medical conditions that develop over a period. Chronic disease management is an organized set of innervations used by healthcare payers and providers to provide long-term effective care solutions. Chronic disease management uses healthcare-based integrated web solutions to provide patient-centric, cost-effective, and efficient management solutions.
The increasing number of people suffering from a variety of chronic diseases, such as arthritis, cardiovascular disorders, cancer, diabetes, obesity, and others has created huge growth potential for the expansion of the chronic disease management market globally in the future. The presence of a large patient pool and the growing need to develop a strong healthcare management platform are other factors estimated to drive the chronic disease management market growth over the estimated time period on a global scale.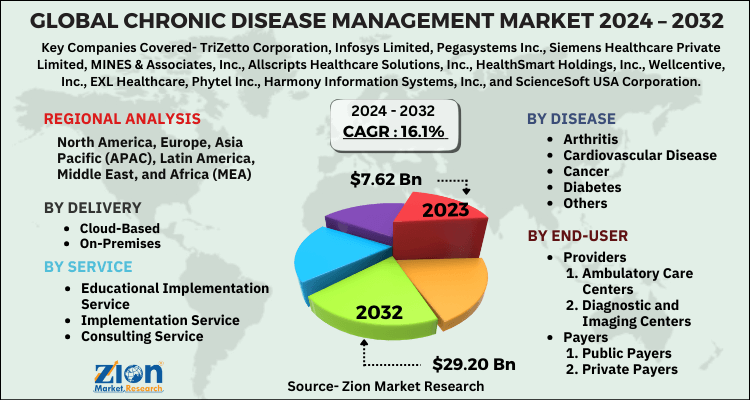 The global chronic disease management market is segmented based on disease type, delivery mode, service, and end-user. By disease type, the chronic disease management market is divided into arthritis, cardiovascular disease, cancer, and diabetes. By delivery mode, the market is bifurcated into cloud-based and on-premises. By service, the market is segmented into educational services, implementation service, consulting service, and others. The end-user segment of the chronic disease management market includes providers, payers, and others. Providers are further segmented into ambulatory care centers, hospitals, physician groups, and integrated delivery networks, diagnostic and imaging centers, home healthcare agencies, nursing homes, and assisted living facilities, and others. The payers segment is further divided into public payers and private payers.
By region, North America is anticipated to dominate the chronic disease management market globally over the forecast time period. This can be attributed to the favorable government policies supporting the introduction of new and advanced services, substantial developments witnessed in the healthcare infrastructure, and funds for research granted by the government and ruling authorities. The Asia Pacific is anticipated to demonstrate the fastest growth rate over the forecast timeframe, owing to the region's thriving healthcare industry due to a large population base, especially in India, China, and Japan. The Latin American market is estimated to grow at a moderate rate over the projected time period. The Middle East and African market is expected to contribute a prominent share to the global chronic disease management market in the upcoming years.
Some key players of the global chronic disease management market are TriZetto Corporation, Infosys Limited, Pegasystems Inc., Siemens Healthcare Private Limited, MINES & Associates, Inc., Allscripts Healthcare Solutions, Inc., HealthSmart Holdings, Inc., Wellcentive, Inc., EXL Healthcare, Phytel Inc., Harmony Information Systems, Inc., and ScienceSoft USA Corporation.