Analysis
Cheese is derivate milk product with high protein content and finer taste. Cheese is prepared by curdling of milk and further fermenting it. Cheese consists of the extensive range of products which differs in texture, taste, process and origin of milk. Cheese is either prepared naturally or by adding additives and microbes. Some of the majorly consumed cheese is goat cheese, swiss cheese, vegetarian cheese, asiago cheese, cream cheese and blue cheese among others. Cheese is consumed across the globe owing to its properties such as bone strength and weight gain.
Cheese is widely used in almost every fast food to attain great taste and texture. Asian economies are extensively adopting fast food with huge cheese content coupled with radically growing fast food chain especially in India and China is expected to fuel the growth of the cheese market in near future. High protein content along with rising dietary pattern is likely to incite the growth of the cheese market in the coming years. However, rising health concerns among obese populace due to the high fat content of cheese may influence the growth of the cheese market. Nevertheless, product diversification is anticipated to provide the wide scope for the growth of the cheese market in the forecast period. Furthermore, increasing demand for dairy products to cope up with the consumer's requirement for superior nutrition may experience healthy growth in demand for inventive cheese products.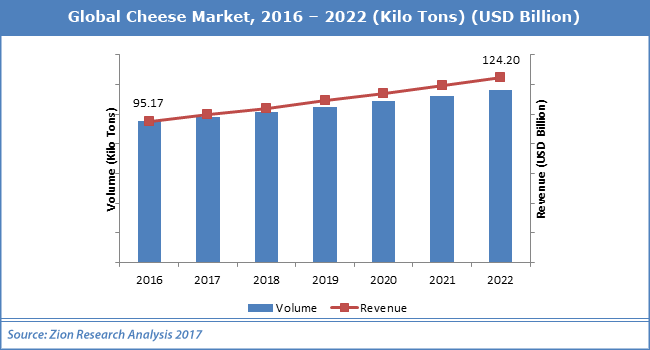 Based on the type the cheese can be segmented as natural and processed cheese. Natural cheese seized the cheese market in 2015 due to its high nutrition content, admirable texture, and original taste. Processed cheese emerged as the potential segment owing to its several and diverse use in fast food such as the use of cheese slice in burgers, drinking cheese in pizza & tacos and among others. Various products segments for cheese include mozzarella, cheddar, feta, Roquefort, and others. Cheddar clutched the cheese market in 2015 with remarkable market share. This was mainly attributed to its unique properties and can be processed into slice, grated, liquid and among others. Cheddar cheese possess long shelf life which makes its first preference for consumers.
Europe governed the majority of the cheese market share in 2015 and is expected to further promote the cheese market growth in the coming years. A factor contributing to the splendid growth in Europe is massive daily consumption of cheese in this region. Cheese is the integral component in European diet, as Europeans are dependent on cheese for their protein intake. North America was the second largest cheese market in 2015. This was mainly due to the daily intake of cheese through fast food coupled with extremely expanded fast food chain in North America. U.S was the largest producer of cheese in 2015. Asia Pacific is expected to specter enormous growth in the forecast period, owing to growing trend for fast food such as pizza, burger, tacos and others, especially in India and China. Moreover, escalating dairy industry in India is anticipated to witness immense growth in the coming years. Latin America is predicted to grow at the lucrative pace due to the rapidly rising dairy industry in Brazil. The Middle East and Africa is projected to have a decent growth in the forecast period due to the instigation of various cheese manufacturers in this region.
Some of the key players in the cheese include Mother Dairy, Almarai, Bega Cheese, Cady Cheese Factory, Amul, Parag Milk Foods, Hook's Cheese Company, Bel Group, Brunkow Cheese Factory, Bletsoe Cheese, Kraft and Burnett Dairy among others. The presence of several manufacturers in cheese market there has been intense competition among the players to sustain in the market. Product innovation is the key strategy practiced by the majority of the players to maintain their sales.