Analysis
Cannabis, also known as marijuana, is a psychoactive (affecting the mind) drug. The main psychoactive constituents are tetrahydrocannabinol and cannabinoid. These are extracted from the herb cannabis and commonly called marijuana concentrate, which is consumed as an intoxicant leading to drugged moods and hallucinations. Cannabis concentrates come in many types—oils, hash, shatters, wax, and vaporizers. Cannabis concentrates are consumed in forms of capsules, chewing gums, or directly smoking. Cannabis concentrates are used in a wide range of applications in the healthcare and pharmaceutical industries. This is the primary factor driving the global cannabis concentrate market development in the years ahead. However, due to lack of strong scientific support for cannabis concentrate to be effective in the treatment of diseases, its usage is limited to countries like U.S., Canada, Australia, Belgium, Spain, and the Netherlands. The growing marijuana demand for recreational use is anticipated to further push the cannabis concentrate market over the estimated timeframe. However, the restricted legalization and complex regulatory structure for cannabis use may obstruct the growth of the cannabis concentrate market globally.
Based on product type, the cannabis concentrate market is classified into shatter, budder, rosin, live resin, and others. Rosin is the latest variety of concentrates in the market and is expected to grow at a faster rate as compared to other concentrates, owing to its easy to use feature.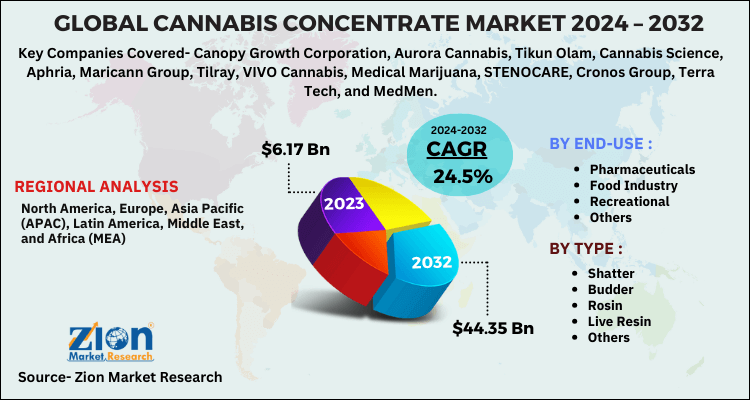 On the basis of end-use, the cannabis concentrate market is fragmented into pharmaceutical, food industry, recreational, and others. Cannabis concentrate has several pharmaceutical applications, such as treating fatal diseases like AIDS, posttraumatic stress disorders, and neurological problems. Consequently, the pharmaceutical industry is a lucrative segment for cannabis concentrate market and is expected to significantly support the cannabis concentrate market growth over the forecasted years. Recreational cannabis concentrate usage is anticipated to be a rapidly-growing segment in the future. Although recreational cannabis has a very low market presence, its demand is almost equal to medicinal cannabis, and with further legalization, the demand for recreational cannabis is predicted to exceed the demand for medicinal cannabis.
The North American cannabis concentrate market is expected to hold the largest share over the forecast time period, owing to the growth in the product demand in the U.S. and Canadian markets. The increasing awareness regarding the health benefits of cannabis is anticipated to further fuel the region's cannabis concentrate market in the future. The region's cannabis concentrate market is further supported by the presence of leading cannabis companies, such as Aurora Cannabis, Medical Marijuana, and Canopy Growth, which are constantly investing in the development of new products to satisfy various consumer demands.
Some key players operating in the global cannabis concentrate market are Canopy Growth Corporation, Aurora Cannabis, Tikun Olam, Cannabis Science, Aphria, Maricann Group, Tilray, VIVO Cannabis, Medical Marijuana, STENOCARE, Cronos Group, Terra Tech, and MedMen.