Analysis
The term business analytics is a process of iterative exploration of an organization's data using statistical methods. It is an optimum usage of skills, methods, and technologies to scrutinize the past performance of an organization and help in making better business decisions. Data is an asset for data-driven companies and it gives them a competitive advantage over the competitors. Therefore, business analytics is successful only when the decisions are taken by skilled analysts who understand technologies, business, and the quality of data provided. Moreover, business analytics solely depends on statistical analysis, explanatory and predictive modeling, and fact-based management. These analytics can either be used for human decision inputs or can be fully automated.
The business analytics market is likely to be driven by help organizations that make informed business decisions in a more organized way. This leads to a rise in the demand for business analytics by organizations due to growing data volumes, ever-changing business environment, and diverse customer preferences. Moreover, the growing demand for cloud-based business analytics software has made the organizations aware of their target customers and user experience enhancement options. However, the effective cost and hesitation in the implementation of business analytics and the lack of skilled workers with basic knowledge may limit the business analytics market globally.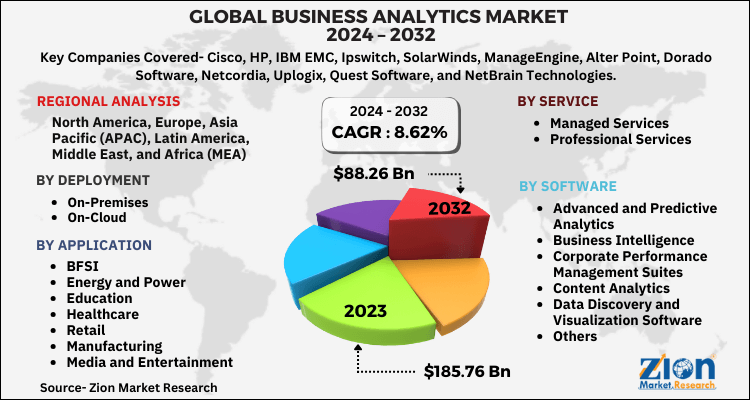 The global business analytics market is fragmented on the basis of software, service, deployment type, and application. On the basis of software, the predictive analytics market is estimated to grow rapidly, as it is related to data mining, statistical modeling, and various machine learning methods to mine and extract data. This is used by various organizations to predict product demand and invest accordingly. In terms of application, the BFSI sector is anticipated to grow notably in the future, due to the rising IT demand in financial transactions and increasing user data. Moreover, healthcare providers are implementing business analytics to make their systems cost-effective and discover new methods for the smooth functioning of operations. This sector also uses business analytics to track the pattern of various departments, which helps the department in optimum utilization of resources, such as nurses, staffing strategies, and shift timings.
North America is projected to hold the highest share of the global business analytics market over the forecast time period, owing to the rising regional implementation of business analytics. The region is also encouraging business analytics usage as the world is moving toward modern and enhanced technologies with ever-increasing customer data volumes. The use of business analytics has improved the response time of the healthcare sector. The Asia Pacific countries are showing significant growth in the region's business analytics market by adopting innovative strategies in organizations, especially India, Japan, and China.
Some noticeable players of the global business analytics market are IBM, Microsoft, Oracle, SAP, SAS Institute, Tableau, MicroStrategy, Qlik, TIBCO Software, Information Builders, Yellowfin, Pentaho, Panorama, and Sisense.