Analysis
The ever-increasing demand for supply chain tracking solutions is likely to primarily fuel the blockchain in manufacturing market over the forecast timeframe. Some major benefits of the blockchain technology in the supply chain are reduced delays due to paperwork, fast product identification, minimized transportation costs, and reduced errors. With the help of blockchain, organizations can obtain real-time digital ledger of all their transactions for all the participants in their network. Various consumer electronics manufacturers, such as Samsung, Apple, and General Electric, have opted to use blockchain for their supply chain activities. In 2018, Samsung announced that it is building a distributed ledger system to track its international shipments. It is estimated that this technology would help the company to reduce its shipping costs by about 20%. This, in turn, is projected to drive the development of the blockchain in manufacturing market globally in the future.
Huge adoption of automation in various manufacturing processes is anticipated to drive the blockchain in manufacturing market globally in the upcoming years. Blockchain combined with robotics is anticipated to make robotics operations more flexible and profitable. In 2016, the industrial robot sales increased by about 16% as compared to 2015. About 75% robot sales were witnessed in manufacturing countries, such as the U.S., Germany, China, Japan, and the Republic of Korea. These robots are used in assembly lines, warehouses, distributing, and loading products in manufacturing plants. However, the lack of knowledge among manufacturers about blockchain technology might slowdown this market on a global scale. Various measures, such as onsite training, hiring new workers, and investments in blockchain startups, are being taken up by several manufacturers to overcome these challenges.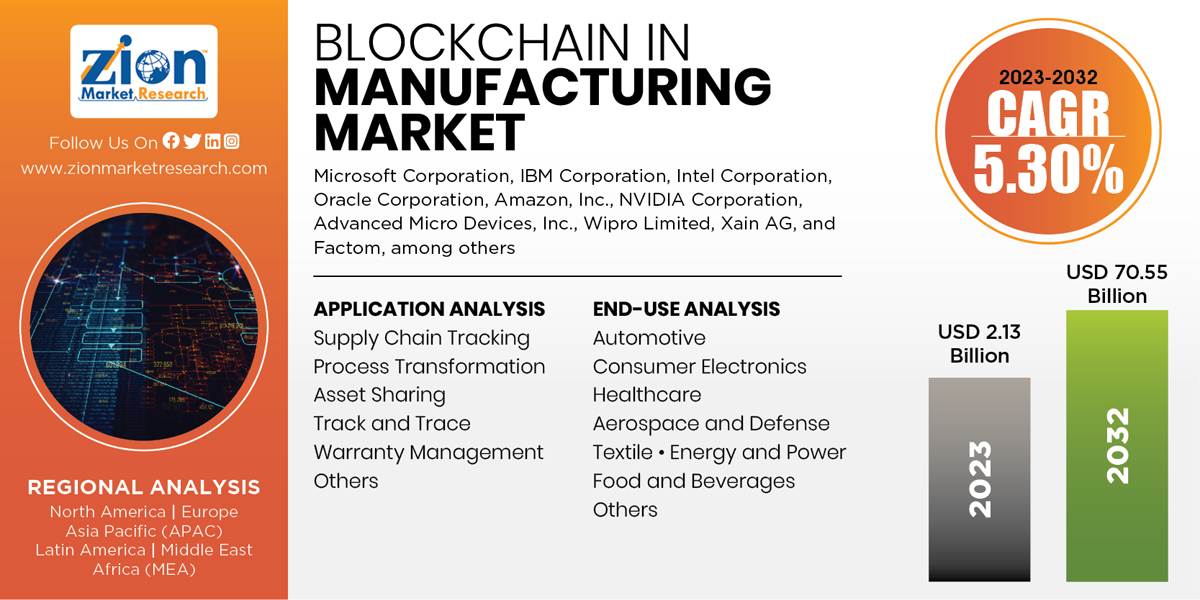 The blockchain in manufacturing market is divided on the basis of application and end-use. By application, this market includes supply chain tracking, process transformation, asset sharing, track and trace, warranty management, and others. On the basis of end-use, this market includes automotive, consumer electronics, healthcare, aerospace and defense, textile, energy and power, food and beverages, and others.
By region, Asia Pacific is likely to witness substantial growth in the blockchain in manufacturing market in the future. China is expected to register the highest demand for blockchain solutions in the manufacturing sector, owing to the increased technology adoption. North America is anticipated to contribute a significant share to the blockchain in manufacturing market over the estimated timeframe due to the rising investments made in the manufacturing sector.
Major players of the blockchain in manufacturing market include Microsoft Corporation, IBM Corporation, Intel Corporation, Oracle Corporation, Amazon, Inc., NVIDIA Corporation, Advanced Micro Devices, Inc., Wipro Limited, Xain AG, and Factom, among others.