Free Analysis
The growing demand for product tracking solutions is currently fueling the blockchain IoT market. Major benefits of blockchain technology are less paperwork leading to fewer delays in transport, reduced transportation cost, few manual errors, and quick identification of products. Organizations can gain a real-time digital ledger for all the transactions of their participants within a network due to blockchain technology.
Numerous consumer electronics manufacturers including Apple, Samsung Electronics, and General Electric have already opted to use blockchain technology in their supply chain. Samsung Electronics, in 2018, announced that it is developing a distributed ledger system that will track all its global shipments and will help in reducing the overall shipping costs by 20%. Furthermore, these organizations are also focusing on utilizing IoT technology. The rising demand for blockchain and IoT in healthcare is driving the market over the forecast period. Blockchain and IoT systems automate various administrative tasks in the healthcare sector along with removing the possibility of any kind of human errors in payment processing that improves accuracy and reduces additional overheads. In 2017, "IBM Watson Health" announced its partnership with the "Food and Drug Administration" to utilize blockchain and exchange data related to health in a secure and efficient manner. However, the lack of awareness among organizations about blockchain IoT technology may limit this market globally.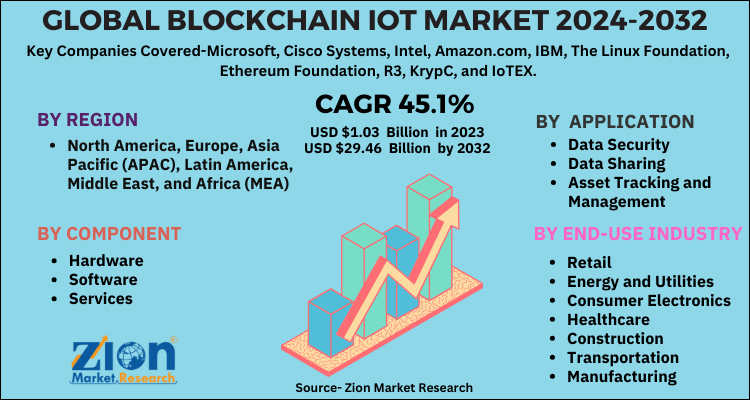 The application segment of the blockchain IoT market is fragmented into smart contracts, data security, asset tracking and management, data sharing, and others. Data security is expected to grow considerably over the estimated timeline, owing to the rising concerns for data theft due to a growing number of cyber-attacks. By end-use industry, the blockchain IoT market includes retail, energy and utilities, consumer electronics, healthcare, construction, transportation, manufacturing, and others. The transportation segment is estimated to hold a substantial market share in the future, owing to the increasing adoption of blockchain solutions to track products in-transit.
The Asia Pacific region is anticipated to witness notable growth in the global blockchain IoT market over the upcoming years. China is projected to generate a huge demand for blockchain solutions, particularly by its manufacturing sector. The European blockchain IoT market is expected to hold a significant share globally, owing to the increasing investments made for retail IoT solutions. Top retailers are focusing on utilizing IoT with blockchain technology to leverage their retail services offered to customers.
Some prominent players of the blockchain IoT market are Microsoft, Cisco Systems, Intel, Amazon.com, IBM, The Linux Foundation, Ethereum Foundation, R3, KrypC, and IoTEX.