Analysis
Biomass pellets are biofuels that are made from compressed organic matter or biomass. They can be obtained from five general categories of biomass namely, industrial waste and co-products, food waste, agricultural residues, energy crops, and virgin lumber. Biomass pellets are majorly used as a heating fuel. Low greenhouse gasses emission from biomass, increased government initiatives for renewable technologies, the need for renewable energy supply and massive unexploited biomass potential are the factors driving the global biomass pellets market across the globe. The rapid depletion of fossil fuels and global warming caused by their usage has shifted the global focus from conventional energy to green energy. Several governments across the globe have initiated schemes in the form of incentives, grants, and subsidy to promote and encourage the generation of renewable energy. This is expected to be one of the major growth drivers for biomass pellets market during the forecast period. Although, the high cost of the raw materials and the extraction process is expected to curb the growth of the biomass pellets market.Moreover, preferential tariffs, CDM revenue, Renewable Purchase Obligations and Renewable Energy Certificates for biomass projects are expected to open new avenues of opportunities in the market in the near future.
The biomass pellets can be segmented into categories based on its applications; industrial applications and residential applications. Industrial applications segment accounted for over half of the global revenue and is expected to witness significant gains over the forecast period. Residential applications segment is expected to witness significant growth owing to environmental awareness among the customers and high disposable income which could sway the customers to opt for greener energy options as heating fuel.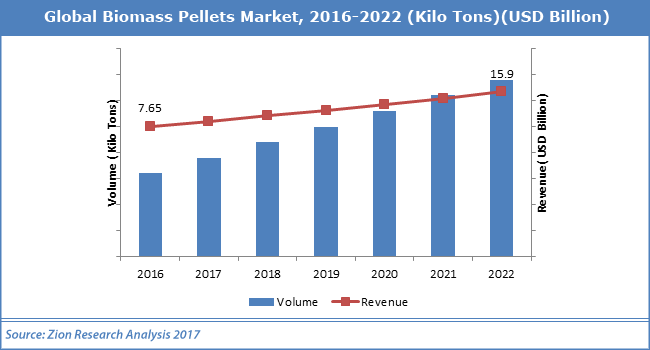 Europe accounted for most of the global market share and is expected to grow in light of low GHG emission from biomass and increased government initiatives for the adoption of renewable technologies. In addition, the increasing price of carbon has made it very expensive to burn coal. This is expected to drive the power producers in the region to move towards biomass production aiding the growth of the Europe biomass pellets market.
Asia Pacific biomass pellets market is expected to witness the greatest growth over the forecast period. The major consumers in this region are China, Japan, and South Korea. The Chinese government put the adoption of biomass fuel development at top priority after enacting the Renewable Energy Law recently.To replace coal burning, China has been producing biomass pellets on a large scale. This is expected to support the growth of the Asian biomass pellets market.
The key players in this industry are Energex Corporation, Forest Energy Corporation, Helius Energy, New England Wood Pellet, Woodstone, Forth Energy, International WoodFuels, and MGT Power among others.