Analysis
Biodegradable plastics are made from different natural materials, such as corn starch, corn oil, etc. These biodegradable plastics are majorly made from traditional plastics that are engineered to break down easily. The two major types of biodegradable plastics are OXO-biodegradable plastics and hydro-biodegradable plastics. Both these plastics are degraded via the chemical method.
In the past few years, it has been observed that the demand for packaged food items has increased drastically, which has enhanced the demand for plastics that are easily decomposable to reduce the rising environmental concerns related to plastic usage. Environmental protection is given utmost importance to ensure a sustainable environment in the future. The governments across various regions are laying strict regulations to increase the use of eco-friendly and biodegradable materials. These activities run by the government are among the major factors that are contributing toward the biodegradable plastics market expansion. Moreover, the need for industrial units to fulfill their corporate social responsibility is also driving this market. However, the high costs of biodegradable plastics than that of conventional plastics might be a major restraint for this market. On the other hand, emerging end-user industries of biodegradable plastics analysis is further expected to provide numerous opportunities for the key players working in the global biodegradable plastics market.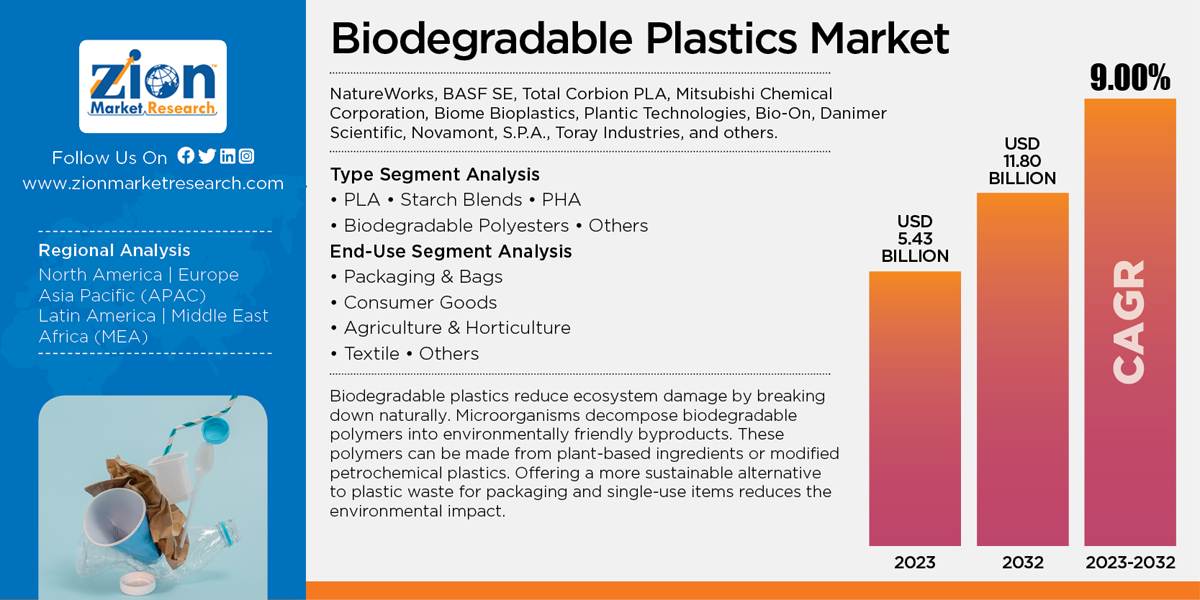 The biodegradable plastics market can be fragmented based on type and end-use. Based on type, this market is segmented into PLA, starch blends, PHA, biodegradable polyesters, and others. The end-use segment includes packaging and bags, consumer goods, agriculture and horticulture, textile, and others. The packaging and bags segment is likely to dominate the biodegradable plastics market over the forecast time period. Increase in the demand for the packaged food industry is likely to drive the demand for biodegradable plastics in the upcoming years.
By region, this market is segmented into Europe, North America, Asia Pacific, Latin America, and the Middle East and Africa. Asia Pacific held the most significant share of the biodegradable plastics market in terms of volume during 2017. This can be attributed due to the growing usage of biodegradable plastics in developing economies, such as China and India. The North American biodegradable plastics market is likely to witness noteworthy growth during the forecast time period.
Some major players operating in the global biodegradable plastics market are NatureWorks, BASF SE, Total Corbion PLA, Mitsubishi Chemical Corporation, Biome Bioplastics, Plantic Technologies, Bio-On, Danimer Scientific, Novamont S.P.A., and Toray Industries, among others.