Description
The Biochar market is set for a rapid growth over the forecast period. In terms of revenue, the global Biochar market accounted for USD 1,503.75 Million in 2019 and is expected to reach USD 3,673.68 Million by 2026, growing at a CAGR of 13.61%.
Global Biochar Market: Overview
Biochar is commonly produced in the presence of oxygen when biomass, such as wood leaves or manure, is heated or burned. Typically, they are created by a process called pyrolysis and are commonly used to improve soil quality and mitigate climate change. Biochar is able to transform carbon into a stable form and is cleaner than other charcoal forms. They are used in applications such as agriculture, gardening, electricity generation among others. Cheaper cost of raw material, environmental awareness and government laws for waste management are predicted to create huge platform for market expansion.
Global Biochar Market: Growth Factors
Biochar, carbonized biomass similar to charcoal, has been used in the urgent medical care of animals for several years. Biochar has been increasingly used by livestock farmers since 2010 as a daily feed supplement to enhance animal health, increase the quality of nutrient intake and thus productivity. As biochar gets enriched during the digestion process with nitrogen-rich organic compounds, the excreted biochar-manure becomes a more useful organic fertilizer during storage and soil application, causing lower nutrient losses and greenhouse gas emissions. Thus, the demand for biochar in livestock feed has accelerated the growth of biochar market globally. Moreover, the increasing demand of biochar in greenhouse gas remediation and energy production has also spiked the overall growth of the market. Additionally, rising environmental concern and awareness about the biochar among population is another factor boosting the demand for global biochar market.
Global Biochar Market: Segmentation
The global Biochar market is segmented into technology, application and region. By technology, the market is segmented into Pyrolysis, Gasification, Microwave Pyrolysis, Batch Pyrolysis Kiln, Cookstove and Others. Of these, the most effective production process is pyrolysis. It is projected to grow faster in terms of revenue over the forecast period due to the high end-product yield of high carbon content and process stability. A modest increase in the use of gasification technology has been witnessed due to the increasing need for power generation. As the process does not produce stable biochar that is capable of being used in agricultural applications, it is projected to lose market share in the coming years. By application, the market is segmented into Agriculture (farming, livestock, others), Gardening, Electricity Generation and Others. In 2018, the largest share of total biochar demand was held by the agriculture application segment. Biochar helps to increase the holding capacity of water and fertilizers and enhance the biological productivity of soils, which helps to provide crop nutrition and accelerate growth. A significant number of farmers, however, still lack knowledge about the commodity and its advantages. In agricultural applications, farming is expected to increase significantly, thereby rising the overall market demand, owing to rising awareness about the uses of biochar among farmers by institutes research groups.
Global Biochar Market: Regional Analysis
Based on regions, the global Biochar market can be divided into five main regions: North America, Europe, Asia Pacific, Latin America, and the Middle East and Africa. North America has been the largest buyer of the commodity and, with growing demand for organic foods and high meat consumption, is expected to see substantial growth. Compared to others, the understanding of biochar is very high in this area, and the agriculture community has more knowledge and understanding about the product and its advantages. In addition, low livestock feed costs are expected to increase consumption in this market. Due to the existence of large and developing agricultural sectors in rising economies, such as China and India, the Asia Pacific is expected to experience extremely high growth. Several R&D activities and government initiatives are expected to lead to the dissemination of knowledge among the farming community of biochar and its benefits, resulting in increased demand.
Global Biochar Market: Competitive Players
Some of key players in Biochar market are Cool Planet, Genesis Industries, LLC, Pacific Biochar Benefit Corporation, CharGrow USA LLC, Phoenix Energy Group, Black Owl Biochar, Airex Énergie Inc., Ambient Energy LLC, ETIA Group, CharGrow USA LLC, Avello Bioenergy, Pyrocal Pty Ltd, American BioChar Company, Terra Humana Ltd, Bioforcetech Corporation, ECOERA Millennium Biochar and Carbon Emission Removal Service, EkoBalans Fenix, Carbo Culture, Biochar Now, LLC., GreenBack Pte Ltd and others.
Global Biochar Market: Regional Segment Analysis
North America
Europe

France
The UK
Spain
Germany
Italy
Rest of Europe

Asia Pacific

China
Japan
India
South Korea
Southeast Asia
Rest of Asia Pacific

Latin America

Brazil
Mexico
Rest of Latin America

Middle East & Africa

GCC
South Africa
Rest of Middle East & Africa
Free Analysis
Biochar is mainly charcoal obtained by precise heating of waste materials, such as wood waste, agricultural waste, animal manure, and forest waste. It has a broad range of application including electricity generation, pharmaceutical, agriculture, and forestry.
The global biochar market is expected to grow substantially in the future, owing to the growing biochar demand for its health benefits and increased biochar usage in electricity generation, pharmaceutical, and forestry applications in most of the regions globally. The increased demand for organic food is also anticipated to be a prime driver for the global biochar market over the forecast time period. Positive government policies, cheaper raw materials, and rising environmental awareness for waste management are further likely to play a major role in driving the global biochar market. Enhancement of soil richness and plant quality provided by biochar usage are also supporting the global biochar market. However, technological barriers and high investments in remote areas may hinder the biochar market in the upcoming years. Nonetheless, product innovation and emerging markets in the Asia Pacific region will probably open new growth avenues for the major players in the years to come. The manufacturers are concentrating on inventive products are projected will also propel this market in the upcoming years.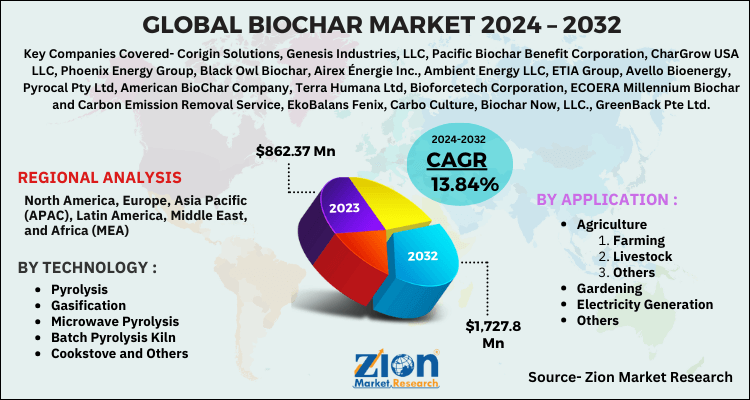 The global biochar market is fragmented on the basis of feedstock type, technology, and application. By feedstock type, the global biochar market is classified into agricultural waste, animal manure, woody biomass, and others. The woody biomass feedstock segment accounted for a major market share in 2018. On the basis of technology, the global biochar market includes pyrolysis, gasification, and others. The application segment of the global biochar market includes electricity generation, agriculture, and forestry. The agriculture segment led the global biochar market in 2018.
In 2018, North America was estimated to be the biggest biochar market due to the rising demand for biochar in the U.S., Canada, and Mexico. The Asia Pacific biochar market is anticipated to be the fastest growing in the future, owing to the increasing biochar demand from food, pharmaceutical, and clinical sectors. North America was followed by Europe and the Asia Pacific in 2018.
Some major players of the global biochar market are Airex Energy, BSEI, Diacarbon Energy, Pacific Pyrolysis, Phoenix Energy, 3R ENVIRO TECH Group, Biochar Supreme, Cool Planet Energy Systems. Research institutes like the Federal Rural University of the Amazon, Aberystwyth University, University of East Anglia, and Massey University are also engaged in the R&D and production of biochar.