Analysis
Basal cell carcinoma is a type of nonmelanocytic cancer that arises from basal cells present in the lower epidermis. It does not spread to other parts of the body but in rare cases, it can metastasize to other body parts and it is generally caused by the exposure to ultraviolet rays. Immunosuppressant drugs are further expected to increase the probability of basal cell carcinoma as the immune system is suppressed by these drugs. Basal cell carcinoma can be life-threatening in rare conditions and white people are considered more vulnerable to basal cell carcinoma. The symptom for basal cell carcinoma includes waxy papules with a central depression and bleeding can also be observed from those papules. There are various treatment options available for the basal cell carcinoma such as surgery, drugs, and others such as radiation therapy and it may take some time to get completely cured.
The major factors driving the growth of basal cell carcinoma treatment market over the forecast period are an increase in various types of skin disorders coupled with melanoma and others. Increased prevalence of cutaneous malignancies is further expected to drive the growth of basal cell carcinoma treatment market. As per the American Cancer Society 2018 report, an estimated 91,270 adults (55,150 men and 36,120 women) in the United States were diagnosed with melanoma of the skin. Melanoma is the fifth most common cancer among men and the sixth most common cancer in women. Australia is expected to have a number of cases for basal cell carcinoma as compared to other countries. Furthermore, increase in geriatric population, increased prevalence, and favorable reimbursement policies are further expected to support the growth of basal cell carcinoma treatment market.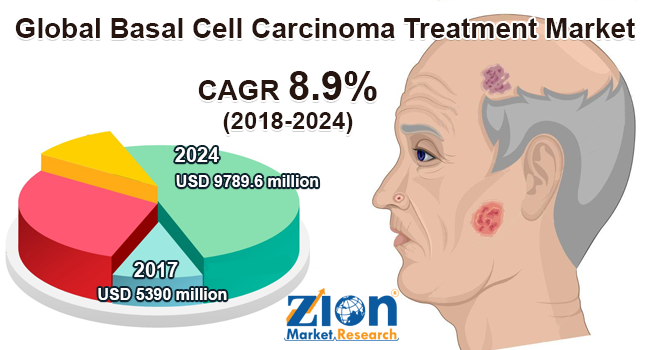 Basal cell carcinoma treatment market is segmented on the basis of treatment type, end-user, and region. Treatment type segment is further classified into surgery, drugs, and others. Surgery segment is expected to grow rapidly over the forecast period. Based on the end user, the market is segmented into hospitals, specialty clinics, and others. Hospitals and specialty clinics are expected to grow significantly in the near future.
Basal cell carcinoma treatment is regionally segmented into North America, Europe, Asia Pacific, Latin America, and the Middle East and Africa. North America is expected to contribute to the major market share which is expected to be closely followed by Europe over the forecast period. The major contribution of these regions is due to the advanced medical and healthcare facilities and infrastructure. The Asia Pacific is expected to grow moderately over the forecast period. Latin America and the Middle East and Africa are expected to develop at a considerable rate within the forecast period.
Some of the key players of basal cell carcinoma treatment market include Merck & Co. Inc., Valeant Pharmaceuticals International Inc., F. Hoffmann-La Roche Ltd., Mylan N.V., Sun Pharmaceuticals Ltd., Allergan, Inc., Perrigo Company plc, and Strides Arcolab Ltd., amongst others.