Free Analysis
Plastic packaging is among the most familiar forms of packaging. Thus, there is always a concern about its capability to retain the quality of products in their original form. There is a rising need for products that can provide a high protection level to products, particularly for the food and beverage industry. Hence, various barrier packaging options have been commercialized that prevent and preserve perishable products by increasing their shelf-life, such as pharmaceuticals, foods, beverages, etc. Moreover, lifestyle-related changes among the population, rapidly changing consumer preferences, and availability of advanced technology have decreased the demand for traditional packaging. These factors are expected to drive the global barrier packaging market over the forecast time period. Furthermore, the growing use of ready-to-eat meals and microwave cooking is expected to further drive this market.
Barrier packaging is considered to be ones of the most commonly used forms of packaging to preserve food products. Barrier packaging is mainly used in food and beverages and pharmaceutical sectors to prolong the shelf life of products and maintain their original quality. This is also expected to drive the barrier packaging market growth over the projected time period.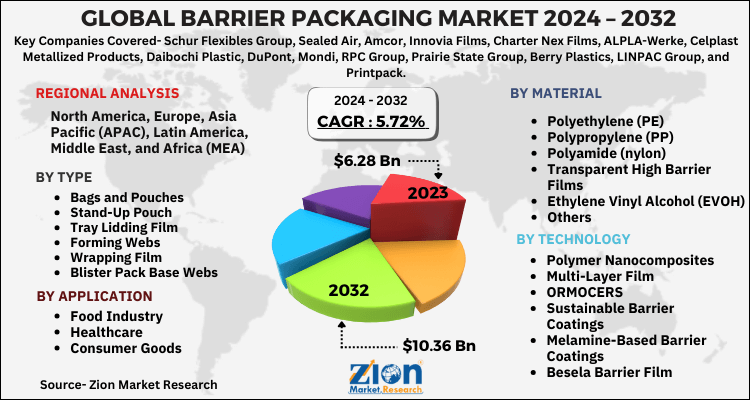 Based on material, the global barrier packaging market includes polyethylene (PE), polypropylene (PP), polyamide (nylon), ethylene vinyl alcohol (EVOH), transparent high barrier films, and others. Transparent high barrier films are expected to grow significantly in the future, owing to the increasing product demand for various packaged food products. By type, the market includes bags and pouches, stand-up pouch, tray lidding film, forming webs, wrapping film, and blister pack base webs. By technology, the market includes polymer nanocomposites, multi-layer film, ORMOCERS, sustainable barrier coatings, melamine-based barrier coatings, and besela barrier film. By application, this global market includes food industry, healthcare, consumer goods, and others.
By region, Europe held a major share of the global barrier packaging market in 2018, due to the presence of major industry players across the region. The Asia Pacific barrier packaging market is expected to show the highest growth rate over the projected timeframe, owing to the rising product awareness levels among the regional consumers regarding its health benefits and the presence of a huge consumer base.
Some major players operating in the global barrier packaging market include Schur Flexibles Group, Sealed Air, Amcor, Innovia Films, Charter Nex Films, ALPLA-Werke, Celplast Metallized Products, Daibochi Plastic, DuPont, Mondi, RPC Group, Prairie State Group, Berry Plastics, LINPAC Group, and Printpack.