Analysis
Automotive coatings are applied on automotive/vehicle metal surfaces to ensure protection against corrosion and rust. Automotive coatings are lightweight in nature apart from being abrasion-resistant, chemical-resistant, and retain gloss.
The global automotive coatings market is likely to experience significant growth over the upcoming years, owing to the growing number of vehicles and substantial developments of protective features like UV-radiation protection, protection from extreme temperature acid rain, and others provided by automotive manufacturers. Rapid urbanization and improving living standards of the global population are also driving the automotive coatings market. However, the volatile raw material prices of automotive coatings may hamper the automotive coatings market growth across the globe to some extent. Alternatively, the flourishing automotive markets in the emerging countries of India and China and ongoing advancements in coating technology are likely to generate new growth opportunities for the automotive coatings market globally.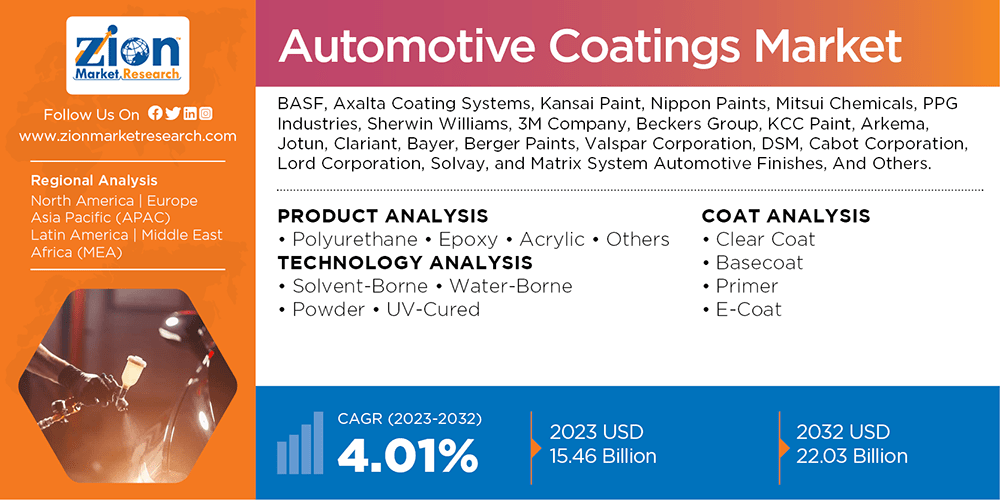 The automotive coatings market is mainly fragmented based on technology, product, and coat. By product, the automotive coatings market includes acrylic, epoxy, polyurethane, and others (melamine, saturated polyester resin, and alkyds). The epoxy segment was the fastest growing in the market and accounted for a significant share in 2018. By technology, the automotive coatings market is categorized into water-borne, powder, solvent-borne, and UV-cured. Water-borne held a major share in 2018. By coat, the automotive coatings market is divided into basecoat, clear coat, e-coat, and primer. In 2018, the clear coat segment was the leading segment of the automotive coatings market globally.
In 2018, the Asia Pacific held the largest share of the automotive coatings market globally. In terms of value, the region is estimated to show the highest CAGR in the years ahead. China and India have been making vital contributions to the region's automotive coatings market. Europe held the second-largest automotive coatings market share in 2018, due to stringent vehicle paint regulations and continuously growing automotive industry. Rapid industrial growth, innovative automotive designing process, developing coating process innovations are leading to huge investments in the automotive sector and increasing the regional demand for eco-friendly coatings, which is also fuelling the automotive coatings market in Europe.
Some major players of the automotive coatings market are BASF, Axalta Coating Systems, Kansai Paint, Nippon Paints, Mitsui Chemicals, PPG Industries, Sherwin Williams, 3M Company, Beckers Group, KCC Paint, Arkema, Jotun, Clariant, Bayer, Berger Paints, Valspar Corporation, DSM, Cabot Corporation, Lord Corporation, Solvay, and Matrix System Automotive Finishes.