Analysis
Automatic identification and data capture (AIDC)is described as the process of automatically identifying objects, collecting data, and logging the same into computer systems. This entire process takes place without any kind of human intervention. QR codes, barcodes, biometrics, smartcard magnetic strips, etc. are some of the technologies that use the process of AIDC. The major applications of AIDC are identification and authorization of a specific source, tracking, and interface to other devices.
The rising adoption of smartphones for image recognition and QR code scanning in retail and growing use of biometrics in organizations are the major growth drivers of the automatic identification and data capture market. These drivers are expected to accelerate the global market in the years ahead. Smartphone companies use image recognition as a feature to unlock a phone by using AIDC technology. This technology uses the data captured by the device while initiating the process, logs it in the database, and matches it with the information (face) provided while unlocking the smartphone. Furthermore, QR codes are widely used to locate, identify, and track codes of a particular website or application. However, the risk of security and authenticity of data collected may restrain the overall automatic identification and data capture market to some extent.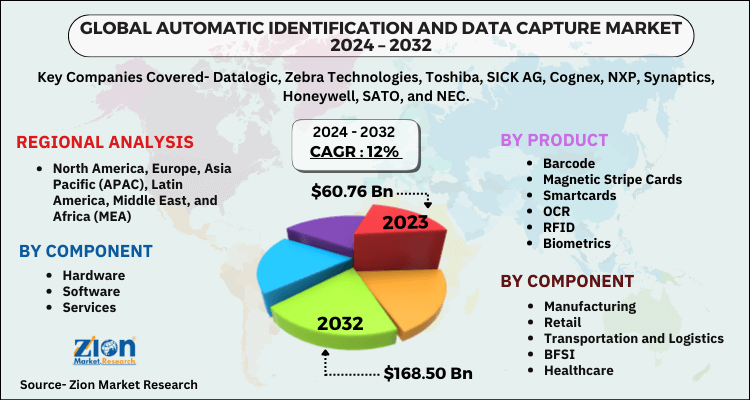 The automatic identification and data capture market are fragmented based on product, component, and vertical. The product segment of the market includes magnetic stripes, smartcards, RFID, OCR, and biometrics. Magnetic stripes are typically used in credit/debit cards and for documentation of payment-related information with the help of magnetic stripe reader. The stripe is made of iron-based magnetic particles like tape. Each particle contains a small magnet on which information is written by magnetizing the bars on north or south poles. Furthermore, Optical character recognition (OCR) detects text characters with the help of a computer system. The process starts with scanning every single text character, analyzing the resulted image, and then converting it into machine-readable codes, i.e., ASCII. It is generally used to sort mails, digitize documents, and check emails based on credit card payment.
The Asia Pacific region is anticipated to hold the largest share of the automatic identification and data capture market globally, owing to the expansion of leading logistics and retail companies across the region. These companies use AIDC for smooth processing and accuracy. Another prominent growth factor for this regional growth is the rising demand for automation to reduce errors in emerging industries like retail, logistics, etc. The North American automatic identification and data capture market are expected to grow at a fast pace in the future, due to the growing importance of AIDC in the region's healthcare sector.
Some prominent companies involved in the automatic identification and data capture market across the globe areDatalogic, Zebra Technologies, Toshiba, SICK AG, Cognex, NXP, Synaptics, Honeywell, SATO, and NEC.