Free Analysis
Aseptic packaging is known as a filling of commercial sterile product into a sterile container under aseptic conditions and seals them in order to prevent contamination. Aseptic packaging is used for numerous food and beverage products such as soup, tomatoes, milk, pudding, etc. Materials that have been conventionally used in aseptic packaging include film foil and polyethylene. The aseptic packaging consists of renewable sources and uses nearly 60% less plastic as compared to other types of packaging. The precise selection of the packaging material type plays an important role in maintaining packaged quality and freshness of a product during distribution and storage. Developments in the aseptic packaging have contributed to increasing the shelf-life of products.
Aseptic packaging can be achieved in various forms. The processing and packaging equipment is heated at a temperature of 320ºF. The packaging can be sterilized by heat, steam, radiation, or hydrogen peroxide. Due to the recent developments, a broad range of containers and packages are filled aseptically. The application associated with the aseptic packaging technology includes packaging of sterile and pre-sterilized products and packaging of the non-sterile product in order to avoid infection of micro-organisms. Furthermore, the advantages in processing and increased availability of biotechnology-based injectable drugs necessitate aseptic filling and packaging.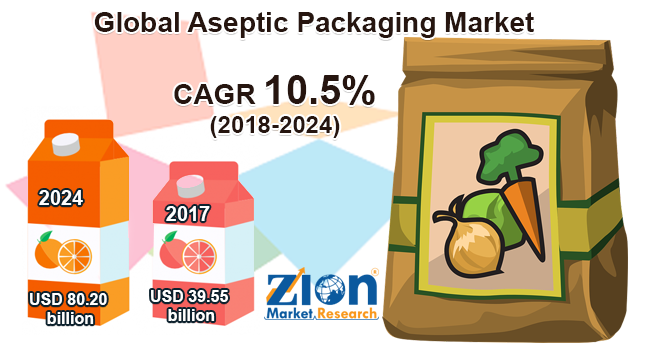 Based on the type, the aseptic packaging market is segmented into bottles & cans, bags & pouches, cartons, and others. Based on material, the market is segmented into paperboard & paper, metal, glass, plastic, and wood. Based on application, the aseptic packaging market is segmented into beverage and food.
Asia Pacific aseptic packaging market accounted for significant revenue share in 2017. Rising demand for aseptic packaging in countries such as India and China, coupled with the growing food & beverage industry in these countries is expected to drive the aseptic packaging market growth over the forecast period. In developed countries such as the U.S. and Germany, strict government regulations and industry standards for pharmaceutical packaging encourage the growth of aseptic packaging.
Some of the key players operating in the aseptic packaging market include Robert Bosch GmbH, Becton Dickinson, and Company, E.I. Du Pont De Nemours and Company, Industria Macchine Automatiche S.P.A, Tetra Laval International S.A., Reynolds Group Holding, Greatview Aseptic Packaging Co., Ltd., Bemis Company, Inc., Amcor Limited, and Schott AG, among others. Industry players are mostly engaged in the manufacturing of packaging materials and invest in the R&D to introduce novel packaging designs and expand their business.