Free Analysis
An arthroscopy is a surgical procedure (minimal invasive) carried out to visualize, diagnose, and treat joint-related problems through an arthroscope. Surgeons observe and perform surgery using an arthroscope which is basically an endoscope that is inserted into patients bone joints to examine and treat a damaged region. An arthroscope consists of a small lens and the fiber optic light, camera, and monitor. The technique is carried out in knee joints, hips, shoulders, ankles, wrists, and elbow area. The arthroscope is a trusted and developing surgery method over traditional method due to its less post-operational pain and reduced recovery period because of small incisions. The arthroscopy surgery is highly beneficial for the athletes and sportspersons.
Rising geriatric population and growing osteoarthritis prevalence have affected the quality of life and environment interactions thus, the need for improvement has raised the demand of the global arthroscopy instruments market. Moreover, increasing preference of minimal invasive surgery (MIS) over traditional surgery due to innovative pain mapping process, least possible invasion area, and shorter recovery period have contributed to the growth of the arthroscopy instrument market. Additionally, growing ambulatory surgery centers, technically advanced instruments, and rising sports-related injuries are also driving the global arthroscopy instrument market. On the contrary, the high price of arthroscopy instruments, poor healthcare expenditure in low and middle-income countries, and lack of skilled professionals in developing countries limit the growth of the global arthroscopy instrument market.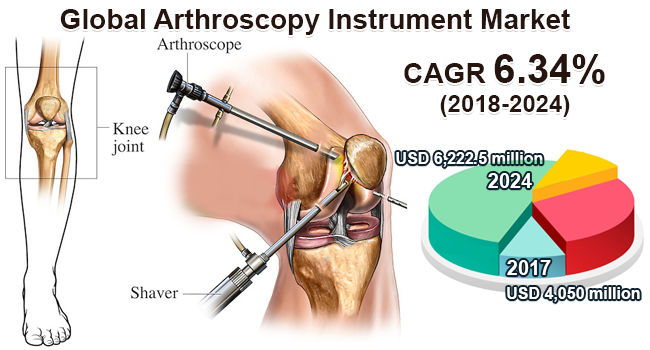 Based on product, arthroscopy instrument market is segmented into arthroscope, arthroscopy implants, visualization systems, fluid management systems, RF ablation systems, and powered shavers. Arthroscopic implants segment hold the highest share of the global arthroscopy instrument market due to the use of implants in the majority of arthroscopic surgeries.
Based on application, arthroscopy instrument market is segmented into knee arthroscopy, shoulder arthroscopy, and others (hip, wrist, elbow, foot, and ankle). Knee arthroscopy segment has contributed the highest share to the market growth and others segment is expected to grow with highest CAGR due to rise in hip surgeries and the growing availability of advanced instruments for complex hip surgeries.
Based on the end-user, arthroscopy instrument market is segmented into hospitals and ambulatory surgical centers & clinics. In 2017, hospitals segment has accounted for the largest share of the global arthroscopy instrument market.
Some of the key players in arthroscopy instrument market are Arthrex, DePuy Synthes, Smith & Nephew, CONMED, Stryker, Medtronic, Zimmer Biomet, B. Braun, Karl Storz, Olympus, MEDICON, Sklar, Millennium, and GPC Medical.