Free Analysis
Amaranth oil is extracted from the genus Amaranthus seeds such as—A. hypochondriacus and A. cruentus that are collectively called, grain amaranth. Amaranth oil is a clear, light to medium colored liquid which is highly unsaturated with agreeable taste and aroma at low temperatures. In addition, it also provides an admirable resource for omega series fatty acids.
Amaranth seed oil contains around 5-9% of squalene that imparts anti-oxidation, anti-aging and anti-inflammatory properties, apart from being a natural skin identical chemical that is easily absorbed by the skin. Squalene has medicinal benefits such as rejuvenation of cell, anti-oxidation and immune system strengthening properties. Amaranth seed oil is applied in pharmaceutical formulations to decrease the drug dosage and the linked side effects. In cancer therapies, Amaranth oil is extensively applied, as it is loaded source of squalene. Due to these properties, amaranth seed oil has found many applications in pharmaceuticals, personal care and cosmetics and food supplement and fragrance industry.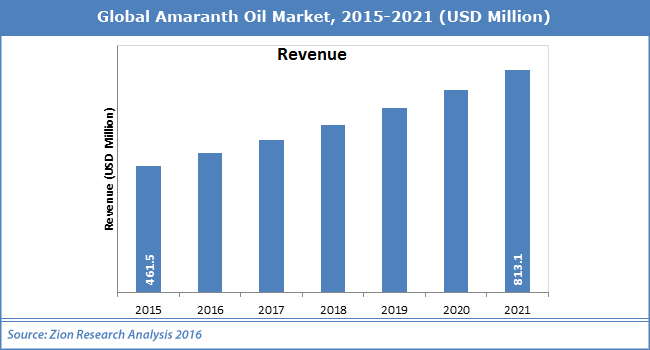 The rise in demand for personal care and cosmetic products made from natural ingredients has boosted the demand for amaranth oil. The factors which are driving the growth in amaranth seed oil market contain the valuable properties of amaranth oil such as high nutrition value, high squalene content, temperature versatility, and its skin identical nature. Moreover, the restraint factors in the growth of the market are high production cost, nil or minimal governmental support and lack of raw material availability.
Amaranth seed oil is extracted by using several methods including organic solvent (hexane) extraction, supercritical CO2 extraction, cold press extraction and others which are under development. However, the most commonly used extraction method is cold press extraction which is due to the low production cost. Supercritical CO2 extraction of amaranth seed oil is expected to have the highest growth rate in the market on account of the good quality and high yield of the oil that is procured through the process.
Cosmetics and personal care industry is the major consumer of the amaranth oil market which accounted for a market share more than 45% in 2015. This segment is expected to rise at a good rate due to the increased demand for natural ingredients based cosmetic & personal care products. Among all other applications, the pharmaceutical and cosmetic segments are likely to have the highest growth rate in the market with a growing use of natural chemicals in medicinal formulations.
Amaranth seed oil has proved to be a rich source of protein, vitamins, and omega-3, 6, 9 containing fatty acids. Due to these health beneficial properties, the oil has tremendous applications in the food supplement industry as dietary corrective supplements foodstuff and dietary supplement capsules as well as in fragrance (aromatics) and in high-grade lubricant additives. For high-grade nutrition for farm animals, amaranth oil is also used in the feed additive industry.
Europe dominated the amaranth oil market in 2015 due to the high demand for amaranth seed oil by various end user industries such as in this region and it is expected to continue to lead this market in the coming years. Europe was followed by North America in the same year. However, Asia-Pacific is likely to be the fastest growing market due to a large number of population coupled with the increase in disposable income in developing economies.
The amaranth oil market is mainly segregated with very a small number of players in the market. The majority of the manufacturers are very small that supply regionally only. The leading players in the amaranth seed oil market are Amaranth Bio Company, AMR Amaranth a.s, Proderna Biotech Pvt. Ltd., Flavex naturextracte GmbH and RusOliva.