Analysis
Enzymes are an essential part of the human digestive system as they aid in the breakdown of bulky and insoluble food components into small soluble molecules. These soluble molecules are easily and effectively absorbed by the human digestive system. These enzymes can be classified as carbohydrase, lipase, and protease. Protease breakdown protein molecules and thus improves protein digestion. Similarly, lipase breaks the large lipid into smaller lipids. In addition, carbohydrase breaks down carbohydrates into simple sugar.
Rapid advancement in enzyme technology has led to the high usage of the enzyme in various end user industries such as food & beverage, cleaning agents and among others. This factor is expected to accelerate the growth of the alcohol enzymes market in upcoming years. In addition, surging demand for processed food has strained the manufacturers for the use of enzymes which in turn has assisted the alcohol enzymes market growth. However, several rules and regulations for the production of alcohol enzymes may obstruct the growth of alcohol enzymes in some regions. Nevertheless, the unexploited market in the emerging countries is likely to positively impact on alcohol enzymes market in the upcoming years.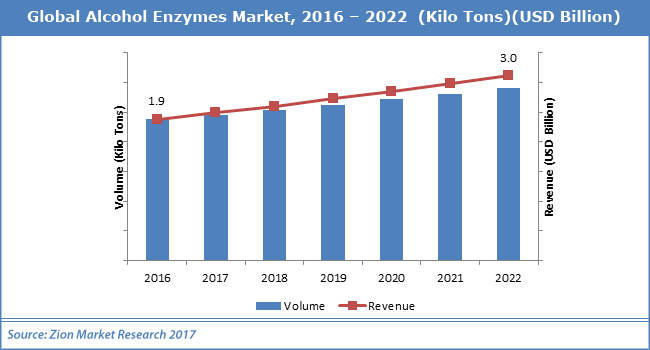 On the basis of types, the alcohol enzymes market can be segmented as carbohydrase, proteases, lipases, and others. Carbohydrase emerged as the potent segment among all owing to escalated utilization of carbohydrase in animal feeds, pharmaceutical, and food and beverages among others. There are two major applications for alcohol enzymes that are industrial and specialty applications. Industrial applications can be further classified as food & beverage, cleaning agents, biofuel production, and others, whereas the specialty applications include pharmaceutical, bio-catalyst and research & biotechnology among others. Food & beverage was the leading segment in 2016 with a significant market share of the alcohol enzymes market.
There has been a sharp rise in health conscious population and cosmetic demand in North America. Thus, North America held the largest market for the alcohol enzymes in 2016. Consumption of alcohol enzymes in food & beverage and cleaning agents in U.S has spurred the growth of alcohol enzymes market in North America. Europe is anticipated to witness significant growth over the coming years owing increase in demand for alcohol enzymes in the past couple of years due to the advent of new drugs implemented in enzyme replacement industry. Asia Pacific is expected to be the fastest growing regional market throughout the forecast period. This growth is supported by India and China owing to rising disposable income and tremendous industrial development. Latin America, Middle East, and Africa are anticipated to witness decent growth in the forecast period.
Some of the global major players in the alcohol enzymes are Abbott Laboratories, DuPont, Eli Lilly Company, Pfizer, Inc, F. Hoffmann-La Roche Ltd., Amgen, Inc., Merck & Co., Inc., Novartis AG, Novozymes Bayer AG, Novo Nordisk A/S, Shanghai Zheyang Chemical Co. Ltd., The Soufflet Group and Roqutte Freres among others. DuPont introduced SPEZYME containing alpha amylase enzymes which offer benefits such as increased yields, sooner fermentation, reduced energy and chemical use, helping producers to overcome challenges including high feedstock and energy costs.