Free Analysis
Alarm monitoring is the communication between the security provider and home security system. The alarm registers an emergency event and intimates the monitoring station by sending a signal and informing the concerned authorities to rush to the location of the emergency.
The rapidly increasing adoption of security systems and the rising number of insurance policies for commercial and residential applications are major factors stimulating the alarm monitoring market globally. The rising need for security is one of the primary factors driving the market for alarm monitoring. Moreover, the availability of technologically-advanced systems for security and the rising investments witnessed in R&D activities to enhance the existing alarm monitoring systems are also likely to propel the alarm monitoring market over the estimated time period. The escalating demand for automation security systems for both residential and commercial applications is further expected to support the global market for alarm monitoring. The ever-increasing crime and medical emergency incidences will significantly boost the global alarm monitoring market. Additionally, the demand for portable security systems will create new growth opportunities in the market. However, the high cost of installation and maintenance of alarm monitoring systems may hinder market the product demand in the future.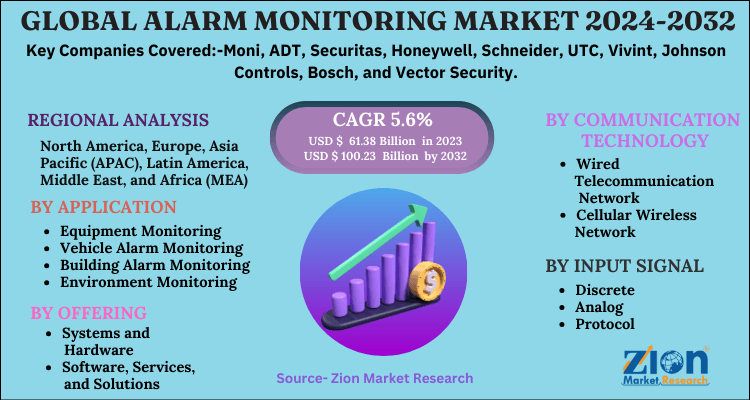 The global alarm monitoring market is categorized based on application, offering, communication technology, and input signal. The communication technology segment of the alarm monitoring market is fragmented into IP network, wireless radio network, wired telecom network, and cellular wireless network. Wired telecommunication is anticipated to hold a considerable share of the alarm monitoring market over the forecast timeframe. The IP network segment is expected to grow at a faster pace, due to the rising demand for safe and wireless communication network systems. Wired telecom network falls under the traditional alarming systems and is expected to grow majorly owing to its reliability and dependability. By input signal, the market includes protocol, analog, and discrete.
North America will major growth in the alarm monitoring market globally over the projected timeframe, owing to the regional presence of prominent market players like Moni, ADT, Honeywell, UTC, Vivint, Johnson Controls, and Vector Security. Moreover, the rising R&D activities at industry and academic levels are widening the application areas of alarm monitoring systems, which will make it easier to include equipment monitoring, is further driving this regional market.
Some noticeable players of the alarm monitoring market are Moni, ADT, Securitas, Honeywell, Schneider, UTC, Vivint, Johnson Controls, Bosch, and Vector Security.