Free Analysis
Internet of Things (IoT) is a growing network of objects that has its own IP address to connect to the internet along with the communication between these physical objects. Additionally, the constant use of these devices generates raw data that is stored via IoT. With the help of Artificial Intelligence (AI) in IoT, these devices analyze and create actionable date for concerned companies.
The AI in IoT market is gaining acceptance globally, owing to its rising demand by industrial sectors, enterprises, companies, and business that have already implemented or are in the process of implementing AI in IoT to efficiently manage work. AI is playing a vital role in IoT as the former has secured its place in numerous sectors, such as vision sensors, to identify accuracy, product orientation, and enhanced process flow by decreasing waste and removing defective products. Moreover, the rising demand for road safety, growing concerns for new infrastructure and devices, such as sensors and video camera to monitor drivers' behavior and driving patterns to find the cause of road accidents, are also projected to propel the AI in IoT market over the predicted time period.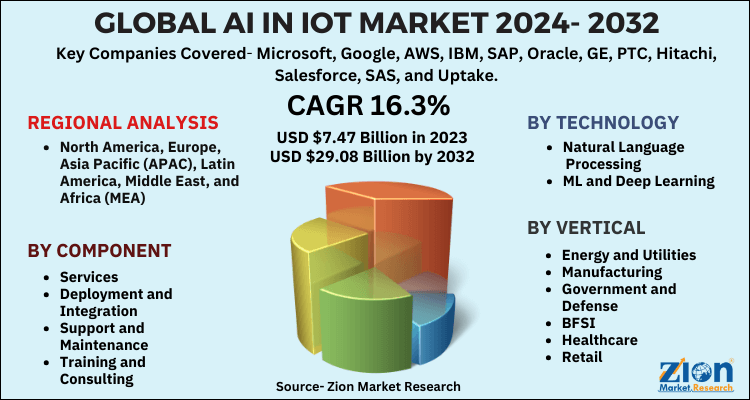 By component, the AI in IoT market is fragmented into platforms, services (professional and managed), and software solutions. Services will hold a noteworthy share over the forecast period. Professional services are expected to grow at a substantial rate, owing to their rising demand in the transportation and logistics sector. This involves data gathering on a regular basis by various smart devices to provide online information about asset tracking, passengers and traffic flow along with the technical team to develop web and mobile application, assist, and support and maintain solutions to make roads more safe and secure.
North America is likely to witness notable growth in the AI in IoT market globally, owing to the early adoption of industry 4.0 and IoT in various industries. Moreover, the region is focusing on implementing IoT in factories to upgrade existing factories to smart factories. Major investments are being made by public and private sectors to enhance the IoT and AI sector, which is expected to further the region's AI in IoT market growth. Additionally, the rising concerns related to life and property insurance will also to support this regional market.
Some noticeable players of the AI in IoT market are Microsoft, Google, AWS, IBM, SAP, Oracle, GE, PTC, Hitachi, Salesforce, SAS, and Uptake.