Free Analysis
The agriculture sector is experiencing a rapid adoption of advanced technologies in order to improve the overall yield of the crops. Artificial Intelligence (AI) is one such important technology in today's digital agriculture that is being implemented and deployed for more sustainable use of available resources.
Various government and private research organizations globally are consistently working to enhance the productivity and efficiency of agricultural land by means of automation, pesticides, and several other measures. Implementation of artificial intelligence in agriculture offers various advantages such as maximizing the crop yield using machine learning and image processing techniques. For instance, International Crops Research Institute for the Semi-Arid Tropics (ICRISAT)collaborated with Microsoft to develop an AI-based sowing App that sends sowing advisories to farmers mentioning the date following. It helped the number of farmers in Andhra Pradesh, India where the practice was carried out as a pilot program by Microsoft and ICRISAT. According to the participating farmers, by using AI-based sowing advisories the yield was increased up to 30% without incurring any capital expenses or installing any sensor on the field.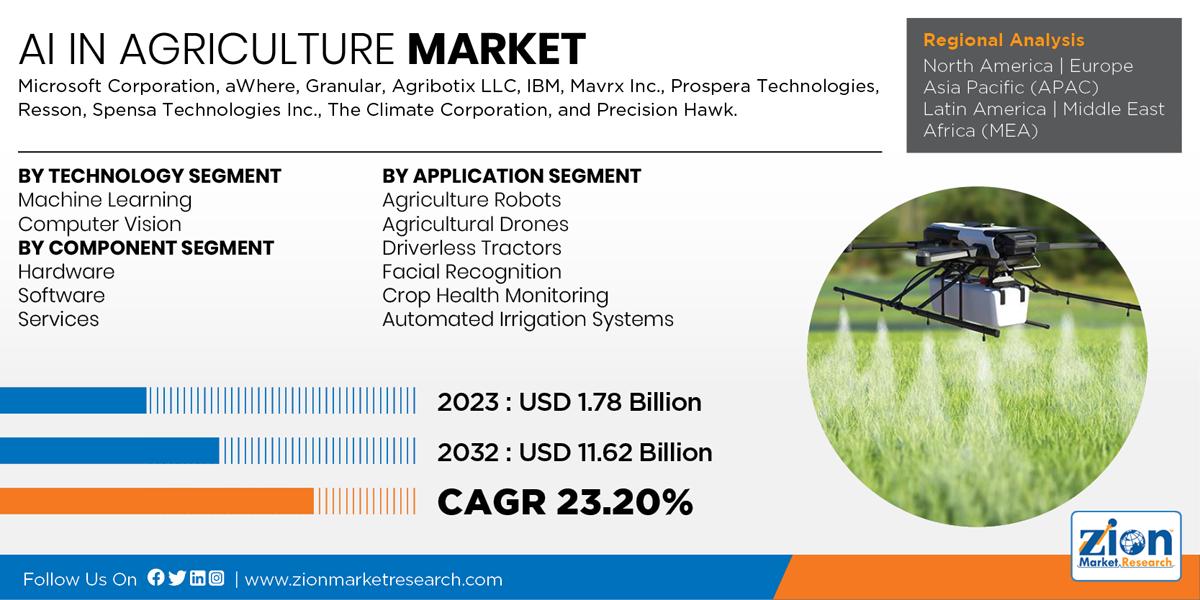 Increasing investments in artificial intelligence and robotics are primarily driving the growth of the global AI in the agriculture market. This can be supported by the fact that agriculture tech startups have raised more than USD 800 million in the past five years, owing to rising interest in AI and robotics in the field. For instance, Indigo Agriculture raised around USD 165 million to focus on crop/soil health analysis by using artificial intelligence in agriculture. Artificial intelligence in agriculture offers various advantages such as yield monitoring, field mapping, croup scouting, and soil monitoring. A major factor that can restrain market growth is the high initial cost associated with the implementation of AI in agriculture. However, favorable government policies to promote AI startups in agriculture are expected to unlock new growth avenues for global AI in the agriculture market.
The global AI in the agriculture market is segmented on the basis of technology, component, application, and region. Technology segment is further divided into machine learning and computer vision. Machine learning sub-segment is anticipated to have a substantial share in the technology segment of AI in the agriculture market. Hardware, software, and services are the components in the global AI in the agriculture market. Applications of the AI in agriculture market include agriculture robots, agricultural drones, driverless tractors, crop health monitoring, facial recognition, and automated irrigation systems. Agricultural drones segment is expected to witness substantial growth during the forecast period.
Regional segmentation of the AI in agriculture marketincludeAsia Pacific, North America, the Middle East and Africa, Europe, and Latin America divided further into major countries such as the U.S., Canada, Mexico, the UK, France, Germany, Italy, China, Japan, India, Australia, South Korea, Brazil, Argentina, Saudi Arabia, UAE, South Africa, and Israel.
Major players operating in the global AI in agriculture market are Microsoft Corporation, aWhere, Granular, Agribotix LLC, IBM, Mavrx Inc., Prospera Technologies, Resson, Spensa Technologies Inc., The Climate Corporation, and Precision Hawk. Working in collaboration with leading tech giants is one of the core strategies adopted by startups in order to deliver maximum output.