Free Analysis
Aerospace market is one of the most important and largest markets for the composite industry. All the military aircrafts, commercial aircrafts, helicopters, and spacecrafts use composite materials both for indoor and outdoor applications. These composite materials, also called advanced polymer matrix composites, are generally determined by high-strength fibers that have high elasticity and stiffness and are bounded together with weaker matrices. The composites materials are important for the aerospace industry, as they provide better structural strength as compared to metallic alloys.
The increase in the demand for lightweight composite materials is due to their requirement in manufacturing aircrafts, which is the primary factor that is likely to contribute to the aerospace composites market growth in the future. Additionally, the development of fuel-efficient aircrafts is another factor that is expected to drive this market. However, the lack of standardization in manufacturing technologies might hamper this market in the upcoming years. Furthermore, the increase in the number of aircraft deliveries worldwide is likely to open alluring opportunities for the market players.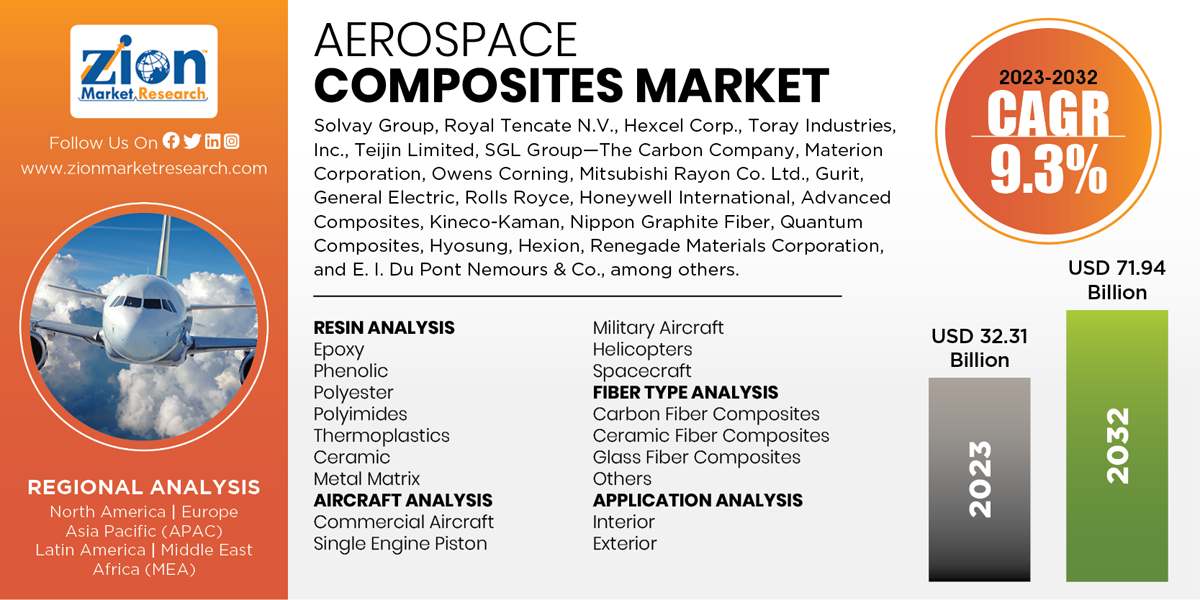 Based on resin, the aerospace composites market is classified into epoxy, phenolic, polyester, thermoplastics, polyimides, ceramic, and metal matrix. Resins held the largest market share in 2017, owing to the increased product use for manufacturing interior parts of aircrafts. Commercial aircraft, single engine piston, helicopters, military aircraft, and spacecraft form this market's aircraft segment. Commercial aircrafts dominated the aerospace composites market in 2017 and are expected to dominate over the projected years as well. This can be attributed to the increased use of carbon fiber in commercial aircrafts. By fiber type, the market is classified into carbon fiber composites, ceramic fiber composites, glass fiber composites, and others. Interior and exterior comprise the application segment of the aerospace composites market.
By region, North America held the largest share in the aerospace composites market in 2017 globally, due to the increased consumption of composites for interior and exterior parts in military and commercial aircrafts. Europe is expected to witness noticeable growth in the upcoming years, owing to the high composites materials' demand in the manufacturing of high-speed trains. The Asia Pacific market is estimated to be the fastest growing over the forecast time period, due to increased air passenger traffic.
Some key players of the aerospace composites market are Solvay Group, Royal Tencate N.V., Hexcel Corp., Toray Industries, Inc., Teijin Limited, SGL Group—The Carbon Company, Materion Corporation, Owens Corning, Mitsubishi Rayon Co. Ltd., Gurit, General Electric, Rolls Royce, Honeywell International, Advanced Composites, Kineco-Kaman, Nippon Graphite Fiber, Quantum Composites, Hyosung, Hexion, Renegade Materials Corporation, and E. I. Du Pont Nemours & Co., among others.