Analysis
The acid proof lining market is anticipated to witness significant growth over the forecast time period, owing to the growing product demand from several end-user industries, such as oil and gas, metallurgy, chemicals, etc. The acid proof lining is widely used in these industries as it helps in protecting the facilities and equipment from exposure to hazardous elements. The product is applied on the walls, floors, and equipment that may come in contact with hazardous chemicals that could damage the equipment or facilities.
Rapid industrialization witnessed across the globe is likely to be the major factor driving the global acid proof lining market in the future. Several emerging economies have laid emphasis on increasing the number of their manufacturing industries as along with entering into new business fields. This will help in strengthening the economy and aiding the countries to grow. According to the UN's Industrial Development Report, industrialization grew by 6.5 % from 2000 to 2015 globally. The major contributors toward this growth were the emerging economies, such as India and China. Moreover, the aim to reduce dependence on imports is another factor that is propelling the expansion of the manufacturing sector. However, the product rising costs may restrain the acid proof lining market globally in the years ahead. The high manufacturing costs could also result in increased prices of the final product. Alternatively, substantial developments witnessed among the end-user industries are predicted to provide various growth opportunities for the key players operating in the global acid proof lining market. The oil and gas and chemical industries extensively use acid proof lining to prevent their products from contaminating the vessels or pipes that are used for storage or transportation.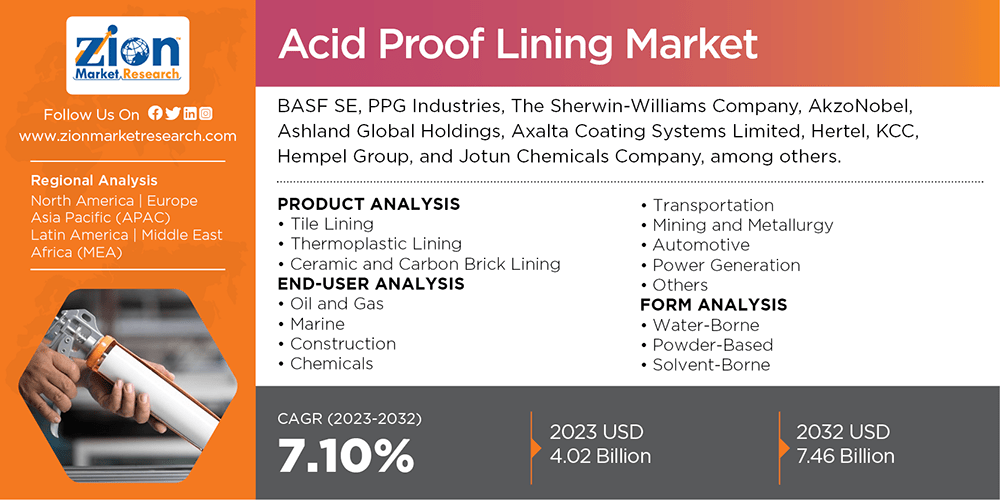 Based on product, the global acid proof lining market is segmented into tile lining, thermoplastic lining, and ceramic and carbon brick lining. Based on end-user, the market is segmented into oil and gas, marine, construction, chemicals, transportation, mining and metallurgy, automotive, power generation, and others. The form segment of the acid proof lining market includes water-borne, powder-based, and solvent-borne.
By region, Asia Pacific was the largest region in the global acid proof lining and contributed the highest market share in terms of revenue in 2018. This can be attributed to the low labor cost and growing population base are some factors that have attracted the global companies to shift their bases in this region.
Some key players operating in the global acid proof lining market include BASF SE, PPG Industries, The Sherwin-Williams Company, AkzoNobel, Ashland Global Holdings, Axalta Coating Systems Limited, Hertel, KCC, Hempel Group, and Jotun Chemicals Company, among others.