Analysis
A chipset is basically formed by combining numerous electronic components placed on an IC (Integrated Circuit), for managing data flow among memory, microprocessor, and other electronic peripherals. 5G chipset is designed by advancing each technical feature of a 4G chipset. 5G chipsets are integrated with 5G-enabled electronic devices like tablets, laptops, smartphones, and routers.
Advanced features offered by 5G chips, such as high speed, low latency, and high bandwidth, has immensely contributed to accelerating the global 5G chipset market. Compared to 4G, where the download speed is 1GB (gigabytes), 5G chips are expected to offer a download speed ranging between 1 and 10 GB. Furthermore, 5G chips are designed to offer the lowest latency of 1 ms or below, which not only increases the speed but drastically reduces response time of data transfer. Compared to 4G chips that operate in the insufficient bandwidth of 200 Mbps, 5G chips can operate in 5 times more bandwidth of 1gbps. However, 4G chips have been diversely implemented worldwide in recent years only, and its immediate replacement by 5G chips will immensely increase the designing and hardware costs. Moreover, the 5G chips are designed offering other advanced technical features, such as machine type communication meeting all IoT application requirements. The rising number of IoT connections acts as a growth driver and is anticipated to create enormous opportunities for the 5G chipset market in the upcoming years. Furthermore, in comparison to 4G chips, 5G chips are well-equipped and effectively designed to handle large number of IoT-connected devices simultaneously.
The 5G chipset market is divided on the basis of frequency, component, application, and end-use. Based on frequency, the market includes between 26 and 39 GHz, 39 GHz and above, and sub-6 GHz. The sub-6 GHz is anticipated to account for the maximum market share, as this spectrum range is widely available for access and effectively handle dynamic data traffic conditions. By component, the market includes MM-Wave IC, cellular IC, ASIC, and RFIC. The MM-Wave segment is estimated to be the fastest-growing segment, as numerous telecom services providers are attracted to the high bandwidth facility offered by this spectrum. The application segment comprises 5G devices, network infrastructure equipment, and customer premises equipment. The 5G devices segment is forecasted to be a significant shareholder, owing to its growing implementation in 5G-enabled smartphones. The end-user segment includes consumer electronics, safety and surveillance, energy and utilities, automotive and transportation, retail, and healthcare. The flourishing demand for 5G-enabled devices like laptops, tablets, and smartphones is driving the consumer electronics segment.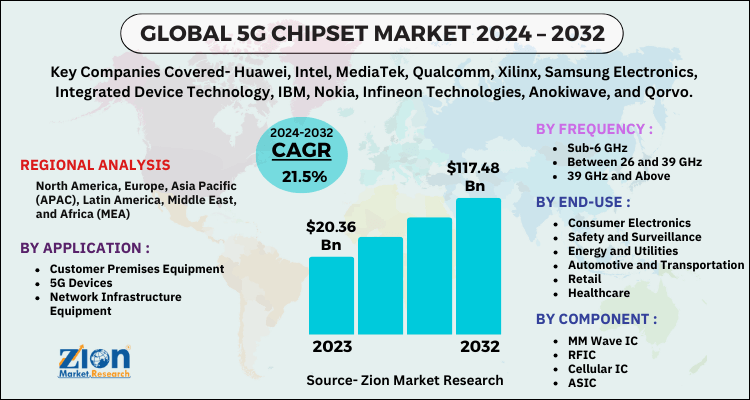 Being one of the leading areas of 5G R&D has anticipated North America to be the largest shareholder in the 5G chipset market globally. Furthermore, the rising demand for advanced technologies in the U.S., such as machine-to-machine communication, artificial intelligence, and connected cars immensely contributes to the market.
Some major players of the 5G chipset market are Huawei, Intel, MediaTek, Qualcomm, Xilinx, Samsung Electronics, Integrated Device Technology, IBM, Nokia, Infineon Technologies, Anokiwave, and Qorvo.