Analysis
A hotspot is a location where one can avail Internet access, with the help of Wi-Fi technology, by a wireless local area network through a router linked directly to an internet service provider.
The Wi-Fi hotspot market is growing significantly worldwide, as it plays a crucial role across various sectors due to its various benefits. Numerous companies are gradually adopting or have already shifted to using Wi-Fi hotspot. The main purpose of Wi-Fi hotspot deployment is to stay connected to the world for both work and entertainment. Moreover, the adoption of smart electronic devices is comparatively high for personal computers. Increasing penetration of smart devices globally is expected to further drive the Wi-Fi hotspot market. The global smartphone users have increased from USD 640 million in 2012 to USD 3.3 billion by 2018; this number will further increase in the future, owing to the rising population and increasing production of technologically-advanced smartphones. The emerging acceptance of Wi-Fi hotspot is mainly due to the escalating use of social media and accelerating internet penetration. Additionally, the availability of low-cost smartphones in the emerging countries of India and China are further fueling the adoption of smartphones. The rapidly increasing acceptance of enterprise mobility and BYOD policies among enterprises across varied domains are also supporting the Wi-Fi hotspot market. However, security issues, such as information theft, data theft, and susceptibility to malware infections, may limit the Wi-Fi hotspot market globally in the upcoming years.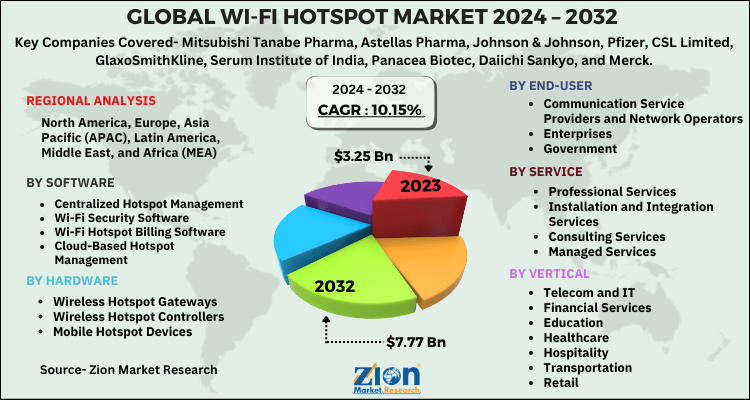 The global Wi-Fi hotspot market is classified based on hardware, software, service, vertical, and end-user. The hardware segment includes wireless hotspot controllers, wireless hotspot gateways, and mobile hotspot devices. Wireless hotspot gateways and mobile hotspot devices will hold noteworthy shares over the predicted timeframe, as these devices are mostly used in hospitals, pharmaceuticals, corporates, food and packaging industry, and large enterprises.
North America is foreseen to hold a significant share of the Wi-Fi hotspot market globally, owing to the major growth of extensive wireless connectivity and enterprise mobility. The increasing adoption of industry 4.0 and rising demand for connected devices are expected to further contribute to the region's Wi-Fi hotspot market. Projects related to smart factories and an increasing number of government initiatives to enhance productivity and help organizations to deliver output in a better way are also boosting the Wi-Fi hotspot market in North America.
Some prominent players of the Wi-Fi hotspot market are Cisco, Aruba Networks, Nokia Networks, Alcatel-Lucent, Ericsson, Boingo Wireless, Ruckus Wireless, iPASS, and Aptilo Networks.