Global Rubber Conveyor Belt Market: Overview
Since transportation of large quantities of heavy products and materials is required across innumerable industries including mining, cement, stone crushing, road construction, timber, power plants, compost & recycling, and mineral processing plants, plenty of time and labor is significantly saved when rubber conveyor belts are used. Labor-intensive tasks can be simplified as rubber conveyor belts can be used to transport limestone, crushed rock, sand, cement, iron ore, wood, ashes, slag and the like. They are also deployed as key components in warehousing and automated distribution. Most general duty rubber conveyor belts are abrasion-resistant and gouge-resistant. They are designed to deliver high performance in a specific end-use environment.
Global rubber conveyor belt market was valued at USD 3.73 billion and is likely to reach USD 4.79 billion by 2026 with a CAGR of 3.63%.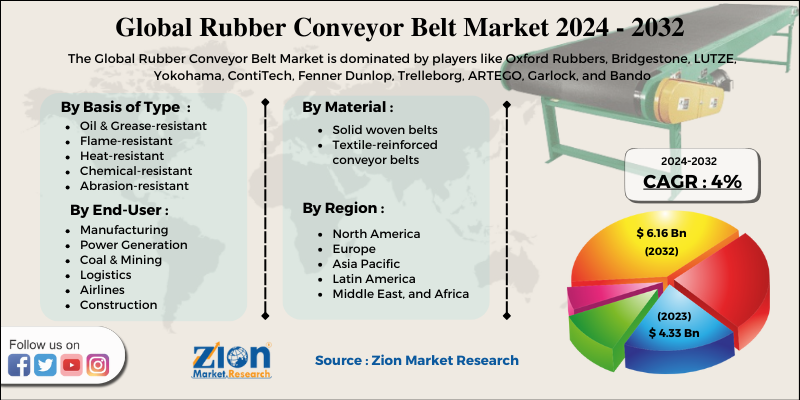 Global Rubber Conveyor Belt Market: Growth Factors
One of the foremost factors aiding the expansion of the global rubber conveyor belt market is an upsurge witnessed by the power generation, manufacturing, and mining industries. These heavy-duty sectors need to keep abreast of novel technologies in order to maintain their productivity at the same time cutting down on cost, labor, and time. As rubber conveyor belts can significantly reduce problems while handling raw materials by transferring them quickly without any wastage, manufacturers of a wide range of heavy goods are utilizing rubber conveyor belts to reduce operation time and ensure a smooth workflow.
Moreover, these products are specially designed to carry hot and oily materials. They are heat-resistant and can handle a temperature of nearly 250 degrees Celsius. Rough top rubber conveyor belts are capable of effectively transporting oily material such as heavy-oil treated coal. Metallurgical industries, coal & mining, and power generation industries are some areas that necessitate the use of flame-resistant materials as inflammable materials can lead to accidents and damage, especially in enclosed areas such as coal mines.
Several market players also offer weather-resistant and acid-resistant rubber conveyor belts. This is expected to generate increasing demand for rubber conveyor belts in the coming times. The low costs of these products and customizability are also some of the key growth factors of the rubber conveyor belt market.
Global Rubber Conveyor Belt Market: Segmentation
The global rubber conveyor belt market can be segmented on the basis of type, material, end-user, and region. By type, rubber conveyor belts can be classified into oil & grease-resistant, flame-resistant, heat-resistant, chemical-resistant and abrasion-resistant. Heat-resistant rubber conveyor belts are likely to represent a huge chunk of the market share during the projected timeline. Manufacturing, power generation, coal & mining, logistics, airlines, and construction are the main end-user segments of the global rubber conveyor belt market. Power generation segment is likely to dominate the global rubber conveyor belt market, with the demand for electricity snowballing. Solid woven belts and textile reinforced conveyor belts are the two major segments on the basis of material. Of these, the textile reinforced conveyor belts might exhibit vast demand over the forecast period.
Global Rubber Conveyor Belt Market: Regional Analysis
Asia Pacific rubber conveyor belt market held a major share in the global market in the past and might retain its ascendancy over the forecast period as well. The rising number of mining explorations, large-scale investments, and skyrocketing demand for various metals, minerals, and other raw materials that need to be transferred from one location to another, will provide a significant impetus to the expansion of the Asia Pacific rubber conveyor belt market.
Developing countries such as China and India are poised for substantial growth over the projected timeframe, thanks to the presence of leading manufacturers of cement and steel in these countries. The high density of residential as well as commercial construction projects in these densely populated regions will surely assist market growth. Furthermore, the governments of the countries in Asia Pacific are encouraging the growth of the end-user industries by supporting infrastructural activities and construction projects, thereby pushing the expansion of the Asia Pacific rubber conveyor belt market further.
Global Rubber Conveyor Belt Market: Competitive Players
Oxford Rubbers, Bridgestone, LUTZE, Yokohama, ContiTech, Fenner Dunlop, Trelleborg, ARTEGO, Garlock, and Bando are a few leading rubber conveyor belt companies. Several market players are offering innovative products using latest technologies to deliver products with a multitude of features such as high breaking tensile strength, low shrink, friction resistance, high compression strength, greater vertical stability, and maximum elasticity.
Global Rubber Conveyor Belt Market: Regional Segment Analysis
North America
Europe

France
The UK
Spain
Germany
Italy
Rest of Europe

Asia Pacific

China
Japan
India
South Korea
Southeast Asia
Rest of Asia Pacific

Latin America

Brazil
Mexico
Rest of Latin America

Middle East & Africa

GCC
South Africa
Rest of Middle East & Africa