Abstract
The report of the biochar market provides a comprehensive glance at the global and regional level. The study provides historical data from 2016 to 2018 along with a forecast from 2019 to 2025 based on revenue (USD Billion) and volume (Kilotons). The study includes major driving forces and restraints of the biochar market along with their impact on the demand over the forecast time period. Furthermore, the study also provides the major avenues of the global biochar market.
The global biochar market study comprises a detailed value chain analysis for providing a comprehensive market view. Moreover, the study also includes Porter's Five Forces model for the biochar market to understand the competitive landscape of the global market. The study includes a market attractiveness analysis of all the market segments.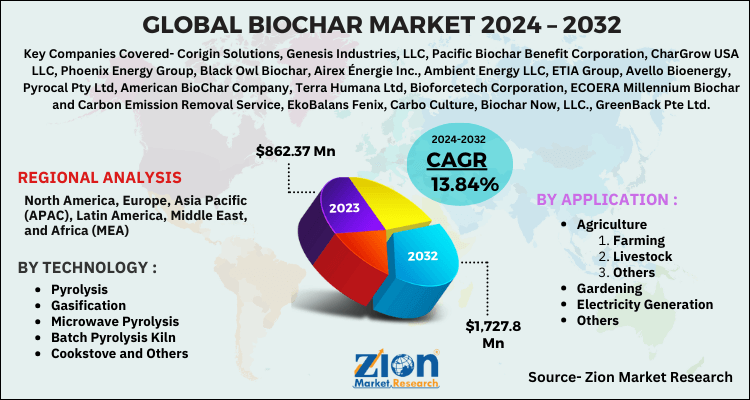 The study provides a significant view of the global biochar market by classifying it into feedstock type, technology, application, and region. These segments have been estimated and forecasted in terms of future and past trends. The regional segment includes North America, Europe, Asia Pacific, Latin America, and the Middle East and Africa.
Some major players of the global biochar market are Airex Energy, BSEI, Diacarbon Energy, Pacific Pyrolysis, Phoenix Energy, 3R ENVIRO TECH Group, Biochar Supreme, Cool Planet Energy Systems. Research institutions like the Federal Rural University of the Amazon, Aberystwyth University, University of East Anglia, and Massey University are also engaged in the R&D and production of biochar.
This report segments the global biochar market into:
Global Biochar Market: Feedstock Type Analysis
Woody Biomass
Agricultural Waste
Animal Manure
Others
Global Biochar Market: Technology Analysis
Pyrolysis
Gasification
Others
Global Biochar Market: Application Analysis
Electricity Generation
Agriculture
Forestry
Global Biochar Market: Regional Analysis
North America
Europe
Asia Pacific
Latin America
Middle East and Africa